20 Facts You Didn't Know About 'Pulp Fiction' on Its 20th Anniversary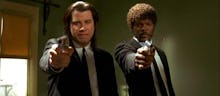 On Oct. 14, 1994, Pulp Fiction was released in the United States — $200 million at the box office and one Oscar later, movie-going changed forever. Two decades later, the film's snappy dialogue, unconventional storytelling and bold mix of violence and humor have not grown old. In fact, Pulp Fiction's cult status has only increased. 
Part of the reason the film is such a classic is because it was made with so much attention and detail. Behind the scenes of Pulp Fiction is just as interesting as the film itself. In honor of the film's 20th anniversary, here are 20 facts that prove just that.
1. Samuel L. Jackson's wallet had a famous owner.
Samuel L. Jackson's now iconic wallet that has the phrase "Bad Motherf---er" printed on it, is actually Tarantino's, according to IMDB. You can now buy this wallet for yourself; Tarantino probably had no idea he'd be a fashion trendsetter.
2. Daniel Day-Lewis could have been Vincent Vega.
According to Vanity Fair, Day-Lewis wanted the role of Vega. Tarantino turned him down in favor of John Travolta. That likely marked the first and last time anybody ever said "no" to Day-Lewis.
3. Julia-Louis Dreyfus could have been the one dancing with Travolta.
According to her manager, Dreyfus was up for the role of Mia Wallace, but yada yada yada, she had to turn it down due to her commitment to Seinfeld. 
4. That Bible passage is mostly made up.
Ever rifled through a hotel room Bible, hoping to find Ezekiel 25:17? Odds are, you'll have trouble finding it because Tarantino has admitted to making up most of the words.
5. Tarantino gave the story a piece of his past.
While trying to get out of town, Butch (Bruce Willis) calls a friend and plots to escape to the safe refuge of Knoxville, Tennessee. While Tarantino has spent most of his life in Los Angeles, he was born in Knoxville. In addition, Vincent had just gotten back from Amsterdam, which is where Tarantino wrote the script. 
6. The characters say 'f—k.' A lot.
Pulp Fiction drops the f-bomb a whopping 265 times. Just above it in f-bomb usage is Reservoir Dogs, with 269 uses of the word. Only Quentin Tarantino could beat Tarantino at his own game. Speaking of which …
7. Tarantino mixed influences from the New Testament to Japanese TV.
Tarantino is well known for paying tribute (or, as others might say, stealing) from his favorite films. According to Tarantino's biography written by Jami Bernard, moments in Pulp Fiction were derived from a speech Sonny Chiba would give in his Shadow Warriors TV series. Chiba would later appear as Hattori Hanzo in Kill Bill: Volume 1.
8. The needle scene was a bit too real for some viewers.
The infamous adrenaline shot scene caused quite a stir long before general audiences even saw the film. According to a Tarantino biography, one man fainted during the screening at the New York Film Festival. However, some believe it was a publicity stunt pulled off by producer Harvey Weinstein, with one witness saying they could "practically see the SAG [Screen Actors Guild] card sticking out of his pocket."
9. Movie magic was used to terrify us all.
No drug addicts were harmed during the making of this film. Tarantino  filmed the adrenaline shot scene by having Travolta pull the needle out, then running the film backward.
10. The Tarantino universe is ever expanding.
It is well known that the Tarantino universe is interconnected. It has been confirmed that Travolta's Vega is the brother of Reservoir Dogs' Vic Vega aka Mr. Blonde (Michael Madsen). Also, listen for the name Red Apple Cigarettes — it's a fictional brand that appears in nearly all of Tarantino's films.
11. Tarantino didn't write the screenplay all by himself.
Roger Avary, who worked at the same video store that Tarantino once worked at, wrote the story about Butch and his father's watch. Despite a fight and subsequent falling out over the writing credit, Avary joined Tarantino onstage when Pulp Fiction won the Oscar for Best Original Screenplay.
12. Some of the funniest lines were improvised.
One of the most gruesome scenes in the film also gets the biggest laugh. That's because Travolta decided to improvise the line "Oh man, I shot Marvin in the face" because he knew it would sound like "He'd stepped on his toes."
13. Jackson's wig was a mistake.
Travolta and Jackson were both wearing wigs. Travolta's was a more calculated decision, as Tarantino wanted to give him a "Euro haircut." Meanwhile, a production assistant accidentally got Jackson a Jheri-curl wig instead of an Afro wig. Jackson approved, and that crew member got to keep their job.  
14. Travolta did his research for the role.
While researching the heroin-addicted Vega, Travolta spoke to a former heroin addict, who suggested he get drunk off tequila shots and lie down in a pool in order to understand what the addiction felt like. 
15. The pawn shop weapons foreshadow Tarantino's future movies.
As Butch makes the decision to go back and save Marsellus' life, he raids the pawn shop shelf for the right weapon. Each weapon he chooses would end up in a future Tarantino: the hammer (Django Unchained), the bat (Inglourious Basterds) and the samurai sword (Kill Bill). There's still no word on when — or where — that chainsaw will pop up next.
16. Tarantino and Travolta originally bonded over a board game.
Tarantino's house must be a hoarder's paradise: Amongst thousands of records and film reels, he also has a collection of vintage TV show board games. During the filming, Tarantino and Travolta supposedly played the Welcome Back Kotter (the sitcom that made Travolta a star) game together.  
17. Willis' daughter helped him get the role.
When, Harvey Keitel (who played the Wolf) and Willis' daughters were having a play date, Keitel told Willis about Pulp Fiction and then introduced him to Tarantino. Turns out in Hollywood, it really is about who you know. 
18. So … what's in the briefcase?
This is a mystery that lives on. Is it Wallace's soul? Not exactly, According to an interview Jackson did with Playboy, all he saw were "two lights and some batteries," but Tarantino said it was "whatever [the viewer] wanted it to be." Some mysteries are better left unsolved. 
19. Who keyed Vincent's car?
There is one minor mystery that Tarantino was able to answer. Vincent tells his drug dealer that somebody keyed his car. Tarantino has said that it was Butch who committed this infuriating crime. This still doesn't solve what was inside the briefcase, but it'll do. 
20. In the end, it all comes full circle.
Everyone who has watched Pulp Fiction the whole way through knows that the first and last scene interlock. Pulp Fiction is truly the kind of film that rewards repeat viewings. If you look and listen closely to the opening scene, you can overhear Jules talk about "quitting the life" just seconds before Vincent gets up to go to the bathroom.