NBC Dumps Donald Trump From Its Programming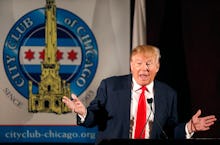 Donald Trump has been fired.
The Republican presidential candidate found himself left out in the cold by NBCUniversal Monday. In an official statement, the company cited Trump's recent statements about Mexican immigrants. 
"They are bringing drugs and they are bringing crime and their rapists," he said during the announcement of his presidential campaign. 
That was too much for NBC.
"At NBC, respect and dignity for all people are cornerstones of our values," the statement reads. "Due to the recent derogatory statements by Donald Trump regarding immigrants, NBCUniversal is ending its business relationship with Mr. Trump."
As CNN's Brian Stelter noted, Trump's upcoming Miss USA pageant, set for July 12, won't be airing on NBC. Celebrity Apprentice, the modern incarnation of Trump's once-huge reality hit The Apprentice, won't star Trump or feature him as a producer.
NBC noted in the statement, however, that the Celebrity Apprentice property is owned by producer Mark Burnett and his team. Therefore, the show may return with a different host. This isn't entirely unprecedented: Martha Stewart helmed a version of the non-celebrity Apprentice for one unsuccessful season. Trump isn't a necessary ingredient.
For those seeking more retribution against Trump than just having his shows canceled, take heart: There's a pinata that's perfect for you.
Trump released a statement on Instagram Monday afternoon in response to NBC's decision to drop him. Quoth the statement, in typical Trump style: "If NBC is so weak and so foolish to not understand the serious illegal immigration problem in the United States ... then their contract violating closure of Miss Universe/Miss USA will be determined in court. Furthermore, they will stand behind lying Brian Williams, but won't stand behind people that tell it like it is, as unpleasant as that may be."
June 29, 2015, 3:59 p.m.: This story has been updated.