You Can Now Buy Legos in Bulk Without Having to Disclose Your Political Intentions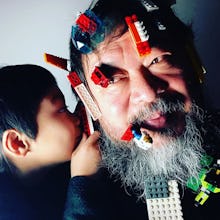 The Danish toy company Lego announced the reversal of its policy on bulk purchases Tuesday night in a statement on their website. 
"Finally," you must be thinking. "Finally I can make that Lego portrait of my cat, Bernard." And yes, you can. But ostensibly, your Bernard portrait was never of concern to the company — provided you're not looking to make some sort of ideological statement with it.
"Previously, when asked to sell very large quantities of Lego bricks for projects, the Lego Group has asked about the thematic purpose of the project," it explained. "This has been done, as the purpose of the Lego Group is to inspire children through creative play, not to actively support or endorse specific agendas of individuals or organizations."
But from Jan. 1, they have allowed and will continue to allow such large scale purchases without getting all up in your business. The only caveat is people who intend to publicly display their Lego masterpieces must clearly state "that the Lego Group does not support or endorse the specific projects."
Contemporary Chinese artist Ai Weiwei is largely credited with facilitating this policy change. 
On Oct. 23 Ai announced via Instagram that in September Lego denied his request for a bulk purchase he needed for an exhibit he was creating about, ironically, free speech. The work was scheduled to be shown at the National Gallery of Victoria in Melbourne, Australia, in December. 
But Lego's rebuff only sparked within the artist inspiration for another piece.
"In response to Lego's refusal and the overwhelming public response, Ai Weiwei announced that he has decided to make a new artwork to defend the freedom of speech and 'political art,'" he announced on Oct. 26. 
It involved placing a car outside his house where people could put Lego donations. This was accompanied by various other collection points around the world, allowing him to create the Lego-based "Letgo Room" as part of his exhibition. 
And then there was the swell of offers and support on social media. 
The artist had used Legos the year prior for a huge exhibition in Alcatraz prison: He used the bricks to create the portraits of political dissidents, such as Nelson Mandela. Freedom of speech remains a recurring theme in his art.
Ai celebrated the news of the new policy on bulk sales with a series of posts on Instagram, featuring a boy sticking Lego pieces to Ai's face... which, really, is the only way to celebrate anything. 
Upon Lego's refusal to sell in bulk to Ai in September, the artist accused the company of being motivated by money. China is Lego's fastest growing market — so much so, it is seemingly immune to the whims of the country's rocky economy. The company also recently built a factory in China's Zhejiang province. 
For now, however, this is a notable international victory for Ai, who has been a continual nuisance to the Chinese government. The growing international scrutiny regarding their treatment of the artist has put the government in an awkward position, demanding a difficult balance of curtailing political subversion and not being accused of human rights violations.
Watch the full video about Ai Weiwei below: