This Brazilian Beauty Queen Says She Was Stripped of Her Title for Being Too Black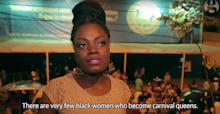 Every year, Brazil's nationwide Carnival festival brings thousands of tourist and lots of cheer to the country. But those happys feeling may be lost on actress Nayara Justino, who won a television channel Globo's contest to be named Carnival 2014's Globeleza, a title that comes with a public ad campaign. But when people complained about her skin color, calling her things like "monkey" and "darkie," the channel stripped her of the title and put a lighter-skinned Globeleza in her place. 
A new short documentary from the Guardian tells Justino's entire story, beginning in 2013 when she was a contestant in Globo's first public Globeleza contest. Justino told the Guardian that she had watched the Globeleza as a child and wanted to be her — but the beauty queen was always light-skinned. 
When the announcer said she won, Justino could hardly believe it. 
Even those close to her were stunned at her victory. 
"It's pretty unusual to see a black woman on TV who is as dark-skinned as she is," Justino's partner told the Guardian. 
"I never thought she would achieve anything like this," said Nazaré Justino, her mother. 
But when the ads came out on TV, swift backlash came with them. 
"She was blacker than the previous Globelezas," Tony Goes, a TV executive, told the Guardian. "The other Globelezas, for Brazilian standards, are 'mulattas.'" Mulattos are one of the many mixed-race or multi-racial categories in Brazil. 
People called her things like "monkey" and "darkie" on Facebook. Some even said that she shouldn't be on TV — she should be in the kitchen cooking. Before she knew it, she received a call saying she had been fired from her job. A few days later, a lighter-skinned woman appeared in Globeleza ads with no public vote. 
"It was the racism that hurt me most of all," Justino told the Guardian. "And the racism wasn't just from white people, it came from black people, too." 
The video explains that racism is widespread in Brazil, even among black people. 
"Black people in Brazil are ashamed of being black," actress Neusa Borges told the Guardian. "There are very few black people who are openly proud of being black." 
Globo responded to the controversy and told the Guardian, "Globo does not base its contracts on skin colour. Actors are chosen according to their artistic fitness for the role. The same criteria applies to the choice of Globeleza, where artistic merit prevails."
Justino told the Huffington Post that she hopes to inspire young black girls in Brazil to fight against the racism in her country, "We've still got a long way ahead."