Police Raids in Belgium Lead to Arrest of Multiple Suspects in Brussels Attacks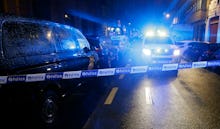 A series of arrests were made in connection to the Brussels terror attacks amid a string of ongoing police raids in the Belgian capital.
Police arrested six suspects in the Schaerbeek and Jette neighborhoods late Thursday during SWAT investigations involving helicopters and armored cars, the Guardian reported.
Authorities have not released details about those arrested, but the Belgian federal prosecutor's office confirmed they are believed to be connected to Tuesday's airport and metro suicide bombings that have killed at least 34 people and injured 230.
On Friday morning, Schaerbeek Mayor Bernard Clerfayt said that another man, also thought to have connections to the attacks, had been injured and detained in a separate operation carried out near a tram station.
Video footage from Friday's raid shows the wounded man with a backpack lying across a set of train tracks. He is inspected by a bomb detecting robot before police drag him away. Witnesses said loud explosions and gunshots could be heard at the scene as more than 50 police officers worked to apprehend the suspect.
Conflicting reports about where attackers might strike next have led to added unease in the city as authorities race to make arrests. Initial intelligence suggested that extremists plotting to bomb a nuclear site had been scared off after police raids began near the capital. Separate reports warn of another attack planned for the same location on Easter Monday.
Of the three attackers believed to be responsible for Tuesday's attacks, two were killed at the scene and one is believed to be at large. 
Read more: Brussels Terrorist Attack Victims: Here's What We Know