Look at This Hornet's Nest That Formed Around a Mask if You Never Want to Sleep Again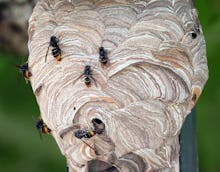 A bunch of hornets found an old mask sitting out in a shed and decided to build a nest around it — and the end result looks like a demon straight from the darkest pits of hell.
The photo was originally uploaded to Reddit about a year ago, but PhD student and apparent masochist Joe Roberts recently resurfaced the image on Twitter.
"A hornet's nest formed around a mask in a shed is truly haunting..." Roberts wrote.
Why, yes. Yes it is.
Twitter users were quick to offer reactions to the terrifying image, and one even managed to somehow up the ante with the use of Face Swap.
Have fun never sleeping again!