'Pokémon Go' Gen 2 Release Date List: Update to add over 80 new Johto Pokémon and more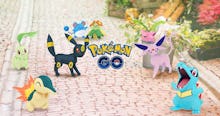 The Pokémon Go Gen 2 release date has been a source of frustration and excitement ever since Niantic released the first batch of baby Pokémon into the wild. Now, the big Pokémon Go update we've been waiting for is finally official.
While hardcore trainers still play the game regularly, many have given up due to a lack of significant updates and new features. That changes today. Niantic has announced the Pokémon Go Gen 2 update, which brings the Johto starters from the Gen 2 games Gold and Silver, along with new evolutions and more. 
The company isn't stopping with just adding new Pokémon. Here's everything included in the update.
Pokémon Go Gen 2 Update: List of new Pokémon you can look forward to
Chikorita, Cyndaquil and Totodile — better known as the Johto starters — will finally make their Pokémon Go debut. Other non-starter Pokémon include Crobat, Donphan, Hoothoot, Hoppip, Marill, Murkrow and Skarmory (based on the announcement video embedded above). Official artwork for the Pokémon Go Gen 2 release also confirms the addition of new Eevee evolutions Espeon and Umbreon.
Overall the company says we can expect over 80 new Pokémon to join the game. That should keep even the most talented Pokémon trainers busy for a while.
Pokémon Go Gen 2 Update: Berries, new clothing and a changed battle interface
Niantic has re-done the battle interface too. When engaging in battle, new options will appear in a carousel, offering not just Pokéballs but new berries you can use as well. Here's a description of the new features straight from the company:
New Encounter Gameplay: When you encounter Pokémon in the wild, don't be surprised if they react in new ways as you're trying to catch them. You'll also notice the addition of new item carousels that allow you to select Berries and Poké Balls directly from the encounter screen. Hone your skills and catch those elusive Pokémon!
The Pokémon Go Gen 2 update is set to arrive sometime this week. When it does arrive you'll be able to grab it here for iOS and here for Android.
More Pokémon Go tips, tricks and guides
Check out Mic's guides on how to get stardust, how to determine how long it will take you to reach level 40, the kind of Pokémon you get from 10-kilometer eggs, how to create new PokéStops, how to maximize your chances of catching Pokémon and how PokéStops distribute Pokémon eggs. Also check out how to catch Gen 2 baby Pokémon, our analysis of post-balance update Chansey and Rhydon and everything you need to know about finding the long-awaited Pokémon Ditto.