'South Park: Phone Destroyer' Mobile Game: Release date, trailer, gameplay and everything else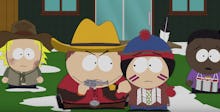 Ubisoft just announced South Park: Phone Destroyer, a new mobile game coming in 2017. Here's what you missed from the E3 2017 presentation.
Phone Destroyer looks to be a turn-based battle game for your phone where you collect (read: buy) cards based on your favorite South Park characters to use in battle. It looks like all of the show's iconic characters show up in various traditional RPG classes, from bards to clerics. There are also sillier ones, such as cops. Finally, there is a pretty racist looking Native American costume.
The trailer didn't go into specifics of how combat works or what the pricing model will be. It's coming later this year at an unspecified date.
More news from Ubisoft E3 2017
Check out more of our coverage from the Ubisoft E3 2017 press conference, including the incredible Beyond Good and Evil 2 reveal, confirmation on the new Mario + Rabbids game, a pirate game called Skull & Bones and surprising new Far Cry 5 gameplay.