5 Horror Movies That Capture the Terrifying Spirit Of Christmas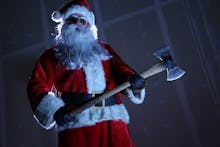 Weirdly enough, the Christmas horror movie genre is a macabre, but thriving, subset of holiday movies. At first glance, holiday horror films may seem like a contradiction. But in reality, these films capture (sometimes literally) something unique abouth the season.
Hallmark would have us believe that Christmas is a time of cheer, but many people deal with intense stress during the holidays. Anyone can be left feeling unsteady, and no amount of Santa, Rudolph, and Hermey the Elf will help. This is where the Christmas horror genre really finds its niche — with those of us who are sitting around the Yule Log, listening to another one of Grandma's awful stories, and wondering just which of the in-laws are going to snap first and turn things into the next rendition of Santa's Slay. For every happy Christmas film, there's a great horror waiting to turn things on its head. The cathartic release from watching such deviously good films is sometimes just as satisfying. There are horror films for every Christmas occassion, just see the list below. 
1. Gifting as seen in "Gremlins"
Films like A Christmas Story explore the excitement and magic of the holiday season by centering on the timeless quest for the perfect gift. It shows the positives that accompany spending time with family, and of course the excitement that comes from receiving a fantastic gift.
Unfortunately, not everyone gets the perfect gift, and we can all give thanks that none of us were ever subjected to the hellish gift that are the Gremlins. The most awful gift, however bad it may be, and however many times we have to put it on to appease Grandma, will never be as bad as the killer creatures that, when fed after midnight, begin rampaging through town. As Linus would say, "Christmas is not only getting too commercial, it's getting too dangerous!" Too dangerous, indeed.
2. In-laws and outlaws as seen in "Christmas Evil"
Christmas isn't just about presents. It's about spending time with your family, as depicted in Clark Griswald's Christmas Vacation. This movie is a fairly light-hearted romp through the typical trials and tribulations of going on a family vacation.
Christmas Evil, on the other hand, is a dark take on both commercialism and family. Where Clark's family ultimately comes together, the main character in Christmas Evil sees his family at its worst, and he snaps. Unlike Cousin Eddie, the outcome isn't a comedic moment for all involved. Instead, it's a slash fest where a man dresses up as Santa kills anyone in his path. All it takes is a push in the wrong direction, and boom, slasher Santa.
3. Loneliness as seen in "Silent Night, Deadly Night"
For some, rather than in-laws being a problem, a lack of family is the issue. Ben Affleck's Surviving Christmas is a good example of the fear people have of being lonely on Christmas.
On the flip side, in Silent Night, Deadly Night, Billy Chapman loses both his parents early in his life. He is sent to an orphanage, and ultimately decides to address the problems of loneliness with an axe murder spree to punish the naughty people of the town. I'm sure we've all wanted to take an axe to our problems sometimes, though I'm not sure if chopping up my computer would actually be much help ...
4. Christmas parties as seen in "To All a Goodnight"
While not specifically a Christmas film, Holiday Inn features has a number of holiday parties in it and a number of various memorable song and dance scenes. This is where the song "White Christmas" comes from. It's a pretty uncomplicatedly good time.
But when a group of teenagers in To All a Goodnight (no trailer available) find themselves stalked by a maniacal killer Santa, the holiday party trope is turned on its head. Holiday parties are tiresome for a lot of people, but turns out there is a worse fate than talking to your least favorite coworker for two painfully sober hours. As the party goers at the Calvin Finishing School for Girls are slowly picked off and the police prove to be no help, the holiday party gets a lot more energetic. Remember the axe when you begin dreading your office christmas party, and you'll keep things in perspective.
5. The big man himself as seen in "Santa's Slay"
We all know the classic, Miracle on 34th Street, where jolly Kris Kringle brings the magic of Santa Claus to a young girl and her divorced mother. It's charming and heart-warming — a classic New York film, too.
Santa's Slay has a different take on Ol' Saint Nick. In this film, Santa isn't a jolly old man. He's a demon of the worst kind, forced by an angel to be the good Santa we know and love for 1,000 years because of a bet. At the bet's end, he decides to take out his frustrations on the locals of a small town. It's a bizarre twist to think that Father Christmas is actually a demonic nutjob hell-bent on killing everyone, but hey, tis the season, right?
Everyone who partakes in Christmas has experienced the stress of looking for the perfect gifts for weeks on end, only to settle for something less than ideal. Additionally, most anyone with in-laws has put up with them for a week, only to swear to themselves that they will never do such a thing again (knowing full well that they will next year). While we know we wouldn't snap, sometimes it's fun to sit back and watch someone who does, and no films do that better than Christmas horror.
Except maybe Die Hard.