5 Great Streaming Services That Don't Start With "Spot" or End With "Otify"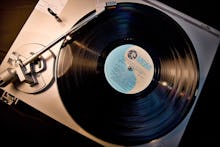 So you've ventured into the brave new world of music streaming, have you? You're certainly not alone. For the first time since iTunes was founded, 2013 saw a decrease in yearly U.S. digital music sales. Meanwhile, music streaming has doubled over the last 12 months. You should also be aware that vinyl sales are up by 33%.
There are many different streaming services out there. Here at PolicyMic, we thought we'd highlight a few options for those of you looking to navigate off of the Spotify-beaten path. Spotify is great. We all love it! But here are five other places you may not have known to look for your music in the age of streaming.
1. MOG
Acquired by Beats Electronics in 2012, MOG and Beats are teaming up to achieve an unparalleled emphasis on quality. Both companies' mission statements take a holistic approach to the personal audio experience: Beats claims "[its] mission is to provide a superior end-to-end music experience" while MOG holds one simple goal: to "perfect your music-listening experience." Most directly in competition with Spotify, MOG has streaming, playlist, and radio capabilities. Unique features include MOG's artist-only radio stations, and genre-specific stations boasting the "freedom to adjust the artist mix on each station." It's the perfect blend of customizing a service to your own tastes while also leaving space for recommendations. MOG is run by self-proclaimed "music lovers" (just like you!) who are dedicated to bringing you new albums every week. MOG is your day-to-day streaming service with ad-supported, basic ($4.99/mo), and primo mobile ($9.99/mo) options. 
2. Slacker
"Get ready for the most music anywhere. Seriously." This is your greeting upon first exploring Slacker Radio. The name seems an ill fit, seeing as Slacker boasts,"More than 10 times the music of Pandora, more than 200 expert-programmed stations that Spotify can't touch, and personalization that Sirius XM can't deliver." Well, that's aggressive.
Slacker also offers talk, sports, news, and entertainment channels to diversify their already impressive catalog of 10 million songs. With artist biographies, songs ranked by popularity, and release dates, Slacker certainly does a lot of work to contextualize its catalog. In that respect, the service is great for music lovers. Just like Spotify, Slacker's premium subscription allows you to create playlists and further customize your listening experience. With almost identical services and pricing, the only significant difference is Spotify's extremely intricate social component. Well, now I understand the name, Slacker. 
3. Pandora
With more well-rounded services now readily available, it's shocking that internet radio service, Pandora, is still relevant!
If you're hosting a dinner party and want a steady stream of Michael Bublé-themed classics, Pandora is still your man. Christmas time? Pandora excels. Or if you're hosting an epic millennials-only pregame, I highly recommend the 90s pop and 2000s hip hop stations. I've been very blessed to watch multiple friends make fools of themselves to the steady thump of Ja Rule or Xzibit. Pandora is the hallmark of music recommendation services and brings the music genome project right into your hands. The process through which these music theorists analyze each song in Pandora's "ever-deepening catalog" is prolific, and usually anticipates tastes (my tastes, at least) correctly. Easily accessible for free via your mobile device or computer, Pandora allows you to create your own station or browse their pre-created diverse categories. 
4. Soundcloud
If you're looking for the latest trap beats or the independent mixtapes your favorite artists put out to spite their labels, Soundcloud is for you.
With Soundcloud, the net is cast a bit wider than most streaming services. The platform's mission statement reads that Soundcloud is made so "anyone can create sounds and share them everywhere." If you're up for weeding through a bit of nonsense, you're likely to discover something wonderful and lesser-known. Soundcloud users create profiles, where they can post music they've created, comment on others' music, browse by genre or artist, follow artists to stay locked into their new posts, and accrue followers on their own profile. One of my favorite Soundcloud features is the "who to follow" section which analyzes your recent plays to link you with artists that fit your tastes. Come to Soundcloud with the mindset of a pioneer, willing to discover, and you're sure to leave satisfied. 
5. ReverbNation
Primarily a social media site for up-and-coming musicians, ReverbNation might seem a strange addition to a list of music streaming sites. But it's actually a great place to find and stream music not just by genre or popularity, but by geographic location. This is the perfect tool if you're looking to be more involved with your local music scene, or to figure out who exactly is playing at all those bars around you all the time. With customers on every continent, ReverbNation is primarily focused on "allow(ing) musicians and industry professionals to reach their goals in an increasingly complex music world."
As an artist on ReverbNation myself, I will warn you that the interface is anything but user-friendly. However, if you can manage the strange navigational tools, ReverbNation can be a wonderful tool for discovery as well as an opportunity to connect directly with musicians via private messages or public comments.