7 HUGE Cases of Gross Police Misconduct Made News This Week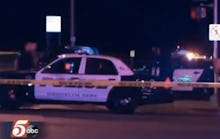 On Monday, two California police officers were found not guilty for the 2011 murder of a homeless man. Kelly Thomas, 37, died five days after being violently beaten and tasered by six police officers. Video surveillance footage showed the on-duty officers confront the homeless and mentally handicapped man before pushing him to the ground and beating him with their knees, fists, batons and electric stun guns — the jury took less than two days to acquit the two officers on trial.
The National Police Misconduct Statistics and Reporting Project's 2010 (NPMSRP) Police Misconduct Statistical Report (the most recent data available because of the scarcity of available statistics) shows that from January 2010 through December 2010, there were 4,861 unique reports of police misconduct that involved 6,613 sworn law enforcement officers and 6,826 alleged victims.
1. A Tennessee patrolman forced a woman to perform oral sex on him
Hamilton County Sheriff's patrol officer Willie Marshay Greer, 33, pulled a woman over for speeding at 1 a.m. and after running her name through a database and discovering she had an open warrant for arrest, offered to "strike a deal."
"I could let you go, but you'd owe me," the woman said Greer told her.
Greer then forced the woman to perform oral sex on him while handcuffed. 
2. A Chicago cop sodomized a man they wanted to turn into a drug informant
Angel Perez, a 32-year-old Chicago man, is suing the Chicago Police Department after accusing several officers of beating him and sodomizing him with a gun to force him to cooperate as a drug informant in 2012. 
According to a report in VICE, "One of the officers 'inserted a cold metal object, believed to be one of officer's service revolvers, into the plaintiff's rectum.' The complaint continued: "The two officers laughed hysterically while inserting the object' and Sergeant Cline joked, 'I almost blew your brains out.'"
3. Police in Minnesota shot and killed a man who was handcuffed
A man in Brooklyn Center, Minn. was shot and killed while in handcuffs. Edmond Fair, 24, was pulled over at a traffic stop when officers discovered he was a wanted man and handcuffed him. According to the police, he struggled and reached for the officers' guns, prompting them to retaliate and shoot him. The details of the case are not totally clear, but it is hard to attack a cop and reach for his gun while in handcuffs.
4. An Illinois deputy had sex with a 9-year-old boy
Following federal investigations by the U.S. District Attorney's Office and the FBI, former Illinois sheriff's deputy, 38-year-old Gregory M. Pyle, plead guilty to charges involving sex with a minor. Pyle had been with the McHenry County Sheriff's Department for 10 years and spent some of his time leading the department's child pornography investigations. 
In court, Pyle admitted to taking a 9-year-old boy from Chicago to Milwaukee, sexually abusing him and posting the photos online. 
5. Police in Nebraska beat a man senseless
A sixth officer has been fired after an illegal parking incident escalated into a brutal confrontation. When police discovered an illegally parked car with expired tags, 28-yea-old Octavius Johnson got into a confrontation with several officers that ended with his beating. Johnson's brothers caught the incident on videotape, which was confiscated by an officer. The police officers involved were investigated and eventually dismissed for use of excessive force, warrantless search and seizure and destroying evidence. 
6. A Pennsylvania cop pepper-sprayed a 13-year-old because he didn't want to go to school
Pennsylvania state trooper Ernest Boatright was charged with child endangerment and harassment and placed on unpaid leave after pepper-spraying his girlfriend's 13-year-old son when the boy stayed in bed and refused to go to school.
7. A North Carolina cop shot and killed a subdued schizophrenic as his parents watched
This past weekend in Boiling Spring Lakes, N.C. the parents of 18-year-old Keith Vidal called police for assistance when their son was suffering from a schizophrenic episode while carrying a screwdriver in his hand. Scared for their child's safety, three officers responded to the call and attempted to subdue the teenager. While the officers were holding Keith down during his episode and tasing him repeatedly, one officer reportedly said, "We don't have time for this," and shot between the two other officers, killing the boy. 
"There was no reason to shoot this kid," Vidal's step-father Mark Wilsey said. "They killed my son in cold blood. We called for help and they killed my son."
One of the officers involved has been placed on leave — the others have been cleared of wrongdoing by their departments.