9 Reasons St. Vincent Is an Indie Feminist Hero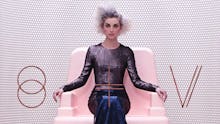 When faced with the question of what it's like to be a woman in the music industry, Annie Clark replied, "It's fuckin' awesome."
Fearless, sarcastic and endlessly eclectic, the artist more famously known as St. Vincent is a musical dream. Clark, who has been playing guitar for nearly two decades and making studio albums for seven years, is known not only for her eccentric musical stylings and innovative sounds, but also for her subversion of the traditional "female performer" role. She is, as TIME once called her, "a new, old-fashioned rock star."
After teasing fans late last year with hints of a new record, the singer-songwriter-multi-instrumentalist will release her newest, self-titled album on Feb. 25 and begin a 30-date North American tour the next day — giving a whole new group of fans the chance to see firsthand why she's one of the most badass musicians — male or female — around. Here's why.
1. She can shred.
OK, maybe it's not technically shredding (except when it is), but girl can play guitar. Clark has been practicing since she was 12, and she even made her "first" guitar out of cardboard with rubber bands for strings. She took lessons as a teen, learned more from her uncle (jazz musician Tuck Andress, a finger-style player), and attended the Berklee College of Music for three years. An equipment fiend, she also uses multiple pedals and guitars onstage to produce different sounds.
On that note ...
2. She can sing.
Her voice finds "strength in understatement" and has been described as "small but powerfully focused ... she wields it like a surgeon's scalpel, making her wry lyrics all the more pointed," and turning her discordant sound into something at once beautiful and aggressive.
Clark grew up in Texas performing in her high school's theater and jazz band. After dropping out of Berklee in the early 2000s, she joined The Polyphonic Spree, a Dallas choral symphonic pop rock group, and a few years later became a part of Sufjan Stevens' touring band before striking out on her own.
3. She challenges stereotypes.
Clark refuses to be pigeonholed by the music industry. She once said, "Growing up, I was never made aware of the idea that because I'm anatomically female, my fingers and brain don't work as well. I never did feel like I was constantly having to overcome, 'I'm a girl but I can play.' That's just silly."
Clark has also expressed her frustration with the repetitive question of what it's like to be a woman in the industry. "Even asking [the question] kind of sounds like, 'You poor thing, what's it like?' It's fuckin' awesome."
4. Her music is unorthodox.
Clark is obsessed with manipulating sound — she loves playing with distortion, harmony and dynamics. Because she's been recording on computer-based systems since she was a teenager, her "songwriting process is sort of inextricably integrated with technology." Clark says this process also involves making "a rule to myself that any instrument that gets played isn't going to function like that instrument normally functions in a song. Like the drums will be the melody in the song — things like that, where you kind of give yourself little challenges and see how you fare with them."
She's been inspired by everything from Frank Zappa and Jethro Tull to The Wizard of Oz. Her range of influences shows in each of her albums, which have been noted for their multilayered sounds — she plays guitar, bass, organ, piano and theremin, and employs strings, brass and woodwinds — and complex structures. 
5. She takes risks.
Clark took a step away from her musical comfort zone when she collaborated with Scottish musician and former Talking Heads songwriter David Byrne on 2012's Love This Giant, an album that revolved musically around horns and live performances. The album received mixed reviews, but the unlikely pair seemed bolstered by the creative experience.
It's clear that exploration drives her music, but Clark is adventurous in other areas as well, such as writing. Late last year she wrote a stream-of-consciousness review of Arcade Fire's Reflektor for The Talk House and recently said she finds writing fun: "Before I spent 18 hours a day on music, I wrote short stories and I did all that. And I obviously like to write."
6. She shuns perfection.
"Ugliness is confrontational in a way that is really kind of satisfying," Clark said in an interview with indie artist Merrill Garbus of tUnE-yArDs. She exploits her traditionally feminine features to explore this idea in the video for "Cheerleader" off her 2011 record Strange Mercy.
The song denounces objectification, voyeurism and the pursuit of perfection and beauty with lyrics like, " I don't wanna be your cheerleader no more/I've played dumb/When I knew better/Tried so hard/Just to be clever." In her video for the single, Clark portrays herself as an art gallery exhibit that eventually cracks under strain and turns to dust.
7. She's funny.
Clark appeared briefly in a 2012 Portlandia skit, but before that she'd actually already worked with the show's hilarious stars, Fred Armisen and Carrie Brownstein. Together the group filmed her "Laughing With a Mouth of Blood" video, in which Clark plays a guest of Armisen and Brownstein's "feminist bookstore owners" characters.
8. Her style is always changing.
Image Credit: NPR
Clark's clothing and makeup style are always evolving: She's changed hair color many times, most recently into shades of gray and purple, and she's known for her unique sense of fashion (she's modeled for Madewell, and wore an Alexander McQueen dress to the 2011 White House Correspondent's Dinner). Clark was spotted with Carrie Brownstein at Opening Ceremony's 2014 show at New York Fashion Week, and also previewed her new album at Diane von Furstenberg's Fall 2014 collection debut.
9. She's honest about what inspires her.
Whether poignant or mundane, Clark has been forthcoming about her inspirations. She opened up about how loss and loneliness drove Strange Mercy, describing how she moved away from New York to Seattle for a month and unplugged from technology. More recently, Clark spoke to NPR about the experiences behind the songs on her forthcoming self-titled album, among them being a naked romp in the desert with a rattlesnake and an Ambien dream about Huey Newton.