17 People Who Have Come Out Against the LA Clippers' Racist Owner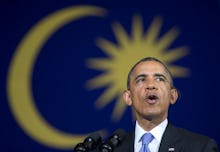 By now you've probably heard about the terribly racist remarks of L.A. Clippers owner Donald Sterling caught on audio in which Sterling makes his views on black people perfectly clear. The news broke late Friday night and has created a serious firestorm of controversy and criticism around the NBA, the African American community and much of America.
Sterlng's comments were reprehensible, but it's not yet clear what the NBA and league commissioner Adam Silver are planning on doing about it. Of course, that hasn't stopped many people from coming out against Sterling and sharing their thoughts on the matter. 
1. President Barack Obama
"When people — when ignorant folks want to advertise their ignorance you don't really have to do anything, you just let them talk. And that's what happened here.
h/t Vox
2. NBA legend Magic Johnson
3. Reverend Al Sharpton
"No one should be allowed to own a team if they have in fact engaged in this kind of racial language.
"We are prepared at National Action Network to rally in front of the NBA headquarters if this matter is not immediately dealt with.
"We cannot have a man being certified as an owner in a sports team that is all-American making such racist and biased statments, and we do not intend to let this go."
4. Keith Olbermann
5. NBA legend Michael Jordan
"I look at this from two perspectives – as a current owner and a former player. As an owner, I'm obviously disgusted that a fellow team owner could hold such sickening and offensive views. I'm confident that Adam Silver will make a full investigation and take appropriate action quickly.
As a former player, I'm completely outraged. There is no room in the NBA – or anywhere else – for the kind of racism and hatred that Mr. Sterling allegedly expressed. I am appalled that this type of ignorance still exists within our country and at the highest levels of our sport. In a league where the majority of players are African-American, we cannot and must not tolerate discrimination at any level."
h/t CBS Sports
6. Snoop Dogg
7. Atlanta Hawks exec and NBA legend Dominique Wilkins
"As a VP for the Hawks it is appalling to wake up to this story. It is in no way anything that I know my NBA at any level to promote, condone or harbor behind closed doors or openly.
h/t TMZ
8. LA Clippers star DeAndre Jordan
This is the same form of expression many used on social media to show their support of Trayvon Martin last year. 
9. Miami Heat all-star LeBron James
"I kind of wavered back and forth whether I would actually sit out. If our owner would come out and say the things that he said, I would really have to sit down with my teammates, talk to my family because at the end of the day, our family, and our teammates are way more important than that. Basketball is huge, obviously the playoffs have been unbelievable, and I hate the fact that something like this has to come out when the playoffs have been unbelievable and the game of basketball continues to grow, but there is no room for Donald Sterling in our league. There is no room for him."
h/t Miami Herald
10. Sports commentator Stephen A. Smith
"Well obviously I was appalled, but to be quite honest with you, I wasn't too surprised."
11. NBA legend Shaquille O'Neal
"Well, first of all, I was shocked. It's one thing to say something controversial, but then it's another thing to say something that's very repugnant.
"If I was in charge, I would probably suspend him and take a closer look at what's really going on."
12. NBA legend Charles Barkley
"You can believe it. This has happened before. ... This is the first test for Adam Silver. He has to suspend him right now. ... He has to be suspended and fined immediately. They have to prove it's his voice on the tape. ... If someone wants to be racist, that's their thing. But when you're in a position of power and you can take jobs and economic opportunity away from people, that's what crosses the line." 
13. LA Lakers star Kobe Bryant
14. Indiana Pacers star David West
15. Former NBA All-Star Baron Davis
16. NBA star Metta World Peace
17. NBA legend James Worthy