The 8 Major News Stories You May Have Missed This Weekend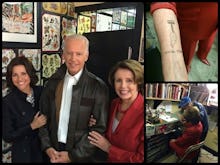 A look at this weekend's top and most trending stories. 
1. The crisis in Ukraine is escalating.
What was once being called Russia's "bloodless takeover" of Crimea has quickly become a violent and chaotic showdown that is veering more and more towards all-out war. Ukrainian forces are now carrying out an offensive against separatists (which many believe have direct ties to Russia) in the eastern and southern parts of the country. 
Friday witnessed the deadliest day of fighting since the February ouster of President Viktor Yanukovych, when at least 31 people died in the city of Odessa. The Ukrainian offensive came just a day after Russian President Vladimir Putin warned government troops to withdraw from southern and eastern Ukraine.
2. Diamond Joe Biden and Nancy Pelosi go to the tattoo parlor.
You've probably heard all about President Obama's hilarious zingers at Saturday night's White House Correspondents' Dinner, but did you catch the opening act? No, not comedian Joel McHale, but the pre-taped intro video featuring Vice President Joe Biden palling around with fictional Veep Selina Meyer (a.k.a. Julia Louis-Dreyfus) and various other D.C. big shots like Speaker of the House John Boehner (R-Ohio) and House Minority Leader Nancy Pelosi (D-Calif.).
The video culminates in Biden and Meyer heading to a tattoo parlor only to run into Pelosi as she's getting her very own "Gavel Time" tattoo. And of course, that spawned this very awesome photo that went super viral. 
3. SNL cold opens with Donald Sterling.
Since the now-infamous tape of Donald Sterling making racist remarks to his girlfriend went public, we've seen scores of celebrities come out against him. Saturday's SNL parody, though, might be one of the best passive-aggressive rips yet of the disgraced NBA owner.
"This has been a terrible time for the NBA, but frankly it's been a wonderful time for me, NBA commissioner, Adam Silver," said Tarran Killam in the show's cold-opening. "I have gotten more high-fives from black people this week than any week in my life."
Then, "Donald Sterling" took the mic.
"Thank you Adam Silver, who I thought was one of us. This week has been such a terrible ordeal for so many people. But let's just focus on the real victim here — me. My reputation has gotten a real black eye, which we all know is the worst kind of eye."
4. A city in England was turned into a giant slip 'n slide.
On Sunday, Park Street in the center of Bristol, England, was turned into a massive 295-foot water slide — and from the looks of the photos, it was awesome. The Bristol Park and Slide project was developed as a temporary art installation by artists Luke Jerram. Nearly 100,000 people applied for a spot to ride the slide, but only a lucky 360 people nabbed one of the coveted tickets. 
Best. Day. Ever.
Image Credit (All): Getty
5. The deadly Middle East virus we've been hearing about has come to the U.S.
Last month, news came of an outbreak of a deadly virus called MERS-CoV (Middle Eastern Respiratory Syndrome Coronavirus) that was sweeping the Middle East and claiming more and more lives everyday. Though most of the cases were diagnosed in and around Saudi Arabia, experts said it was only a matter of time until it spread. 
On Friday, the Centers for Disease Control and Prevention along with Indiana health officials announced that an ill man has been diagnosed with the first case of MERS in the U.S. 
Because MERS is not considered highly contagious — it's nearly impossible for one human to infect another — health experts and officials are not overly alarmed by the stateside diagnosis. However, given that MERS has been considered three times more deadly than SARS, the advent of the disease in this continent is scary.
The hospitalized man in Indiana is in good condition and improving by the day, according to government health officials.
6. People are finally starting to pay attention to the kidnapped Nigerian girls.
This was a story that the media failed to cover from the outset. But as Nigerians and rights groups around the globe voice louder concerns about the missing girls, the world is finally starting to respond to the situation.
Secretary of State John Kerry said on Saturday in a speech in Addis Ababa, Ethiopia: "The kidnapping of hundreds of children by Boko Haram is an unconscionable crime and we will do everything possible to support the Nigerian government to return these young women to their homes and to hold the perpetrators to justice."
On Sunday, Nigerian President Goodluck Jonathan announced that his government — which has so far remained aloof of the situation — has focused its attention on the missing girls. He said, "Wherever these girls are, we'll get them out," and asked for "maximum cooperation from the guardians and the parents of these girls. Because up to this time, they have not been able to come clearly, to give the police clear identity of the girls that have yet to return."
Already, it is being reported that some of the girls were forced into "marriage" with their abductors and paid a nominal bride price of $12, while others have been taken across Nigeria's borders to Cameroon and Chad.
Around the globe, people have continued to hold #BringBackOurGirls demonstrations to express their dissatisfaction with the government's handling of the situation. 
7. Somebody found a rare — and hideous — goblin shark.
Florida shrimpers fishing in the Gulf of Mexico stumbled upon an incredibly rare, almost prehistoric looking goblin shark. Caught off the coast of Key West, Fla., the Houston Chronicle reported that this is only the second-ever sighting of the highly unusual and rare beast in the Gulf — the first sighting, over 10 years ago, resulted in the publication of a scientific paper on the shark that's usually found living in deep waters off the coast of Japan. 
"I didn't even know what it was," lifetime fisherman Carl Moore told the Chronicle. "I didn't get the tape measure out because that thing's got some wicked teeth, they could do some damage." 
In fact, Moore was so freaked out that he quickly took a couple photos on his phone before hoisting it back into the ocean. 
According to the National Oceanic and Atmospheric Administration, the 18-foot-long shark is "one of the rarest species of sharks."
"The guys at NOAA said I'm probably one of only 10 people who've seen one of those alive," Moore added.
Goblin sharks are known for their "pinkish white" color with bluish fins and straight-up crazy mouths:
8. 2,000 kids had a #MansionParty and caused $70,000 in damage.
What started as an Ontario mother telling her son "he could have some friends over" quickly escalated into a spectacle that makes Project X look tame.
The extravagant 5,000-square-foot mansion in Brampton, Ont. had been under construction when the teen decided to have a "small party." Word quickly spread on social media about the #MansionParty and by 9:30 p.m. the house was completely over-run with 2,000 people forming a line of about 200 cars, plus a packed tour bus (talk about organization). 
The local police had to send 60 cars, including canine and tactical units to try to tame the party, and by the end of it, it was estimated that the damage totaled around $70,000. 
Paaaarty!
And after: