12 Facts That Will Change the Way You Listen to TLC's 'CrazySexyCool'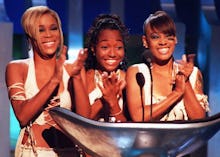 Even N'Sync songs can't approach the nostalgia elicited by a TLC classic like "No Scrubs" or "Creep." TLC is one of the few '90s pop groups that still feel relevant. Their sophomore album CrazySexyCool celebrates its 20th anniversary later this year, but it's never fallen out of style.
To this day, the album remains the highest-selling album by a female group in the United States. It was the first album by a female group to reach diamond status, which is the equivalent of going 10 times platinum — or selling 10 million records. Globally, CrazySexyCool's sales for a girl group are second only to the Spice Girls' Spice. But really, it's no contest. Here are 12 facts that will change how you think about one of the defining albums of our generation. Go get your cassette and listen up:
1. Each word in the album's title refers to a different member of the group.
Image Credit: Facebook
Just as each of the girl's names make up part of the group's acronym TLC — T-Boz, Left Eye, Chilli — so too do each of the words in the album's title correspond to a member of the group. T-Boz is the cool, due to her brash, funky delivery. Chilli is the sexy because she brings smooth, R&B stylings to the group. And Left Eye is the crazy. 
2. Left Eye is 'Crazy' because she burned her ex-boyfriend's mansion down.
Image Credit: Facebook
Left Eye's bandmates weren't the only ones calling her "Crazy" in 1994. Shortly before the group started recording the album, she was convicted of arson for burning her boyfriend's mansion down, which caused a media circus. The story goes like this: Allegedly, Left Eye was trying to exact revenge on her boyfriend, Andrew Rison, an Atlanta Falcons wide receiver. He came home from a shopping trip carrying thousands of dollars worth of tennis shoes, and Left Eye got extremely offended that, in spending all that money, he didn't get anything for her and the burning ensued after he slapped her. Another explanation, though, is that she was taking a stand against the domestic abuse she had been suffering in recent months. Rison did admit that he slapped her during their argument, but only because he wanted to "calm her down." We still don't really know what happened.
But whatever the reason, she lit a pair of his shoes on fire and threw it into his plexiglass tub. Then she ran outside and smashed a couple of his cars. The tub melted under the heat of the shoes (begging the question: Who has a plexiglass tub?) and the fire consumed the top floors of the house, causing more than a million dollars in damage. This terrible series of puns from E! Hollywood Hookups should help explain the situation.
3. Left Eye isn't on the album nearly as much because she was in rehab.
Left Eye pleaded guilty to her arson charge, and the only reason she dodged prison was because she blamed it on alcohol. She was sent to a rehab facility instead, which is why Left Eye appears on so little of the album. Her rehab facility only released her for a couple of recording sessions, during which time she cut just a handful of album-worthy rap verses.
But Left Eye's absence allowed the band to stray from their hip-hop roots and really push the deep, soulful R&B sound that made CrazySexyCool so marketable.
4. TLC went bankrupt shortly after releasing the album.
Though CrazySexyCool sold 11 million copies in the U.S., making an incredible $75 million dollars for their record company, TLC's ludicrously exploitative contracts only paid each of the members $50,000. This put the group in a bad spot, as they all had some serious debts. Left Eye still owed $1.3 million in the damages done to her boyfriend's home, and the group also owed their label money for the studio and rehearsal time they used for recording the album. 
One year after the biggest R&B album in history exploded on the scene, the girls had to file Chapter 11 bankruptcy in 1995 to help themselves out of the hole. It didn't effect the quality of their music, but it was shocking to fans and somewhat demoralizing for the group.
5. TLC held up Clive Davis at gunpoint to get the royalty money they thought they were owed.
Leave it to "Crazy" Left Eye to come up with a revenge plan to get the money they were shorted from the profits of CrazySexyCool. Between the release of the album and the bankruptcy, Left Eye recruited some of the girls she met at her rehab facility to raid their record company, Arista Records. Their plan was to storm the offices, steal all the TLC albums and merchandise they could find and demand more money from their label boss, industry legend Clive Davis, by holding him at gunpoint.
Amazingly enough, their tactics worked. Davis gave them a little bump in their contract, but not enough to delay the inevitable Chapter 11. TLC, however, does not advise anyone to follow their example. "I wouldn't say do what we did ... thank God we didn't go to jail," T-Boz said in offering advice to others starting out in the music industry. "Educate yourself. Learn about the business you're getting into."
Catch a toned-down dramatization of the scene in the trailer for their biopic CrazySexyCool: The TLC Story. The moment comes around 1:17.
6. TLC provided Outkast with its first national audience.
The girls from TLC grew up and formed their group in Decatur, Ga., near Atlanta, which is Outkast's hometown. The last track of CrazySexyCool, called "Sumthin' Wicked This Way Comes," features a verse from a little-known MC at the time named Andre 3000. Outkast's first album, Southernplayalisticcadillacmuzik, had dropped earlier that year, in April 1994. The group had yet to become a household name, and Andre's drawling yet urgent verse got the group its first taste of the big leagues.
7. ... and Cee-Lo Green too.
The name Thomas Callaway — a man better known as Cee-Lo Green, of Goodie Mob, Gnarls Barkley and The Voice fame — appears in the liner notes for the album as backing vocals. But even then he couldn't be fully relegated to the background: His unique, full-bodied rasp can be heard distinctly on "Waterfalls." T-Boz discussed his involvement in a 2013 Fuse.tv interview: "[Cee-Lo] was chilling in the studio, so I was like, 'Hey, you sing good, why don't you [sing backup]?' He was in Goodie Mob, we grew up together, we go way back. He did and it was amazing! I love his voice. Then, everybody knew him as a rapper. Now, the world knows him as a singer, but he was like that years ago."
8. TLC wrote "Waterfalls" to show support for AIDS victims.
TLC had been major proponents of safe sex since their very beginnings. Lisa "Left Eye" Lopes got her nickname for the way she taped a condom over her left eye to promote safe sex in the group's early videos. Fans would come up to the TLC members at shows and tell them how much it meant that they were discussing AIDS and contraception when no one else was. The girls found this very moving and wrote "Waterfalls" as a tribute to those fans. The song became one of the earliest examples of socially conscious lyrics in mainstream pop music, and the members became paid spokespeople for HIV/AIDS awareness when their singing careers started to wind down.
9. Stodgy old Clive Davis was not a fan of the "Waterfalls" video concept.
Image Credit: Getty
Clive Davis was not a fan of the video's concept. Apparently he did not think that a song that portrays the devastation of AIDS on the body so graphically would hit on MTV. However, TLC did not relent, and they secured the million dollars it took to make the video from their label's cofounder, Antonio "L.A." Reid (now a judge on The X Factor and chief reanimator of Michael Jackson). The video got heavy rotation on MTV and won four awards at the Video Music Awards that year, including Best Video. T-Boz described the incident in a VH1 interview: "We had to beg for the money, and it became the biggest song to date. In your face, Clive!"
10. TLC also recorded the 'All That' theme song during the 'CrazySexyCool' sessions.
During those same sessions for CrazySexyCool, TLC also recorded the theme song for a new sketch comedy show premiering on Nickelodeon called All That. That ill rap verse in the opening theme is none other than Left Eye Lopes: "The show is All of That and yes we do it all the time / So sit your booty on the floor or in a chair, / Ground or in the air / Just don't go nowhere"
11. TLC's Prince cover helps bring him back to the mainstream.
Image Credit: Getty
The song "If I Was Your Girlfriend" is a cover of a Prince track. It was not the first Prince cover the group released. They also recorded his "Get It Up" for the movie House Party 3.
At that point, though, Prince wasn't popular at all. In 1994, he was the subject of abject mockery. Today, of course, Prince's music is a topic of academic study and is recognized today as a major influence on all modern music. In 1994, TLC helped remind people how great the Symbol's music was.
12. Left Eye has the lyrics to "Waterfalls" inscribed on her casket.
Image Credit: Facebook
When TLC's Left Eye was killed in a tragic car accident in 2002, her friends and family inscribed her casket with lyrics from "Waterfall," her biggest song and arguably her best verse. The inscription reads: "Dreams are hopeless aspirations, in hopes of coming true, believe in yourself, the rest is up to me and you." The words are a perfect summation of her inspiring life and career. RIP Left Eye, long live TLC.