11 Modern Movie Scenes That Get Sex Awkwardly Right
If you were to look to the Hollywood big screen for realistic lessons on sex, you'd likely be disturbed. Is everyone else really having Angelina Jolie and Brad Pitt Mr. and Mrs. Smith style sex, literally destroying a house with their steamy sexcapades? Is everyone else's sex really so mind-blowing that both consenting parties experience beyond-human levels of pleasure and joy? The answer is, of course not, and if that Mr. and Mrs. Smith sex scene happened in real life, Jolie and Pitt's characters would take periodic sex breaks to clean up all that broken glass. Nobody needs a flesh wound.
The reality is, in addition to being sexy, fun, loving or meaningful, sex can also be bad, unromantic, dispassionate or awkward. Laughing happens, comments are made that are ridiculous in retrospect and, more often than not, people have no idea what on Earth they're doing.
Here are a few modern movie scenes that capitalize on that more underrepresented nature of sex, in all its cringeworthy glory. They may not be hot or particularly cinematic, but they might be a little more true to life. It's safe to say this is mostly NSFW. 
1. 'The Spectacular Now'
Starring Shailene Woodley and Miles Teller this indie darling tells the story of a popular small town high schooler (Teller) as he struggles with general aimlessness and an escalating dependence on alcohol. Cue Woodley's character, a relative social unknown. The unlikely duo fall for each other, and while it could have been extremely easy for the film to fall into the "outcast steals popular kid's heart" trope à la A Walk To Remember, The Spectacular Now expertly portrays the sincerity and awkwardness of adolescent sexuality, epitomized in this giggly, true-to-life sex scene between Teller and Woodley. 
2. 'Greenberg'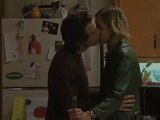 Noah Baumbach has built a reputation as a brilliant independent filmmaker, known for writing and directing deeply resonant films that can be as morbid as they are hilarious. Greenberg (starring Ben Stiller and Greta Gerwig) is no exception. Stiller's character, Roger, has recently been released from the hospital after suffering a nervous breakdown and is living in his brother's family home when he falls for the family's dog-walker (Gerwig). The two find themselves inexplicably attracted to each other, acting on it for the first time in this scene, with fumbling beer bottles and distracted oral sex included. 
3. 'Young Adult'
Charlize Theron (Mavis) stars as an emotionally stunted albeit successful author of young adult books. After receiving an email announcing the birth of her high school love's infant son, Mavis returns to the small town of her youth — a place she once socially dominated and believes she still could. Mavis instead finds herself befriending a former classmate (played by Patton Oswalt) who was crippled in a cruel high school attack by the popular jocks. As cringeworthy sex scenes go, Young Adult takes the cake. It homes in on abject loneliness, irrespective of looks or presumed social status, and mixes that in with some seriously awkward intercourse, accented by a background of customized action figures. 
4. 'Lymelife'
This coming-of-age dramedy set in the early '80s stars Rory Culkin as Scott, 15, grappling with the dissolution of his parents' marriage and a general disillusionment with those around him whom he formerly believed were morally infallible. Emma Roberts plays Adrianna, Culkin's crush, and the scene between the sexually inexperienced Scott and his transient paramour embodies all of the awkwardness of teenage sex from clumsy unbuttoning to … well, finishing before you even start. 
5. 'Superbad'
No list of sexually awkward-but-accurate scenes would be complete without the presence of Michael Cera. It goes without saying that Superbad is a hilarious movie centered around two best friends hoping to lose their virginities at a big party, a task contingent (in their minds) on whether they can successfully deliver the party's necessary booze. Evan, Cera's character, finally finds his longtime crush Becca at the party, when she's extremely drunk. This results in the following scene of a reluctant Cera with the far-too-intoxicated Becca, in all its vomiting glory.  
6. 'Bridesmaids'
An amplification of many of the most unsavory aspects of hook-up culture. Jon Hamm plays an enormous jerk while Kristen Wiig plays the quite literal object of his affection. In the opening scene of the film, Wiig sidles out of bed to apply makeup so that when Hamm wakes up, she looks just how she wants him to perceive her. If anything, as hilarious as this scene may be, it succeeds in making heavyweight social commentary on the absurd expectations of women and sex (doubly meta by indicting how women always look ridiculously perfect when they wake up in movies), while parodying the dominate male lothario archetype, rendered even more effectively with the gorgeous Hamm.
7. 'The Squid and the Whale'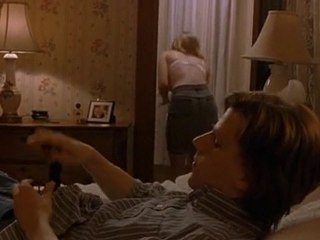 Noah Baumbach, we meet again! This pseudo-autobiographical film set in 1980s Brooklyn charts the divorce of a talented professor (Jeff Daniels) and his wife, an established author (Laura Linney). The eldest of their two sons (Jesse Eisenberg), is not the focal point of the film, though his struggles as a teenager dealing with his parents' acrimonious and colorful separation are a crucial aspect of the storyline. Eisenberg has come to be associated with awkward characters, so it shouldn't really come as a surprise that in this scene with his girlfriend he, let's just say, blows it before he should. 
8. 'Tiny Furniture'
While you might know Lena Dunham primarily from the the show Girls, Dunham's launchpad to widespread acclaim and exposure was her feature film Tiny Furniture — a subtle, intelligent examination of new graduate Aura's life (played by Dunham) grappling with what to do next after she moves back home with her family in Brooklyn. Granted, in the following scene, it's not a common condition of the human experience for people to have sex within a large industrial pipe, but in classic Dunham form the interaction becomes relatable by virtue of its hyperbolic realism ("Do you have AIDS?" "No, do you?").
9. 'Fast Times at Ridgemont High'
Fast Times has remained a staple of teenage-centric cinema for well over 30 years, and there's no mistaking why. For all of the film's absurdities, the infamous pool-house scene (scored in such hilarious fashion) eschews the expectations of what the "popular teens having sex" scene ought to be (seamless and perfect) by turning this notion on its head. When Jennifer Jason Leigh's character hooks up with the ostensibly smooth Robert Romanus who, as soon as things start getting hot and heavy, proves that popularity and good looks do not great sexual stamina make. 
10. 'Friends With Benefits'
Justin Timberlake and Mila Kunis in a sex scene: Not a scenario one would associate with awkward sexual encounters. Yet the scene capitalizes on the elements of sex that are generally passed over in highly stylized Hollywood sex scenes by making it a point to find the humor in sex and force both characters to vocalize their preferences. Plus there's a sneeze involved. While this scene is by no means revolutionary, it manages to be sexy and believable in spite of its clear exaggeration. 
11. 'American Pie'
No list of sexual awkwardness in modern movies is complete without mention of American Pie. Here, Jason Biggs, in an attempt to not just lose his virginity but broadcast it online to the masses, has Nadia, the beautiful exchange student, over to "study." Biggs' character succeeds only in embarrassing himself in an attempt to seduce her with a chair dance and prematurely ejaculating after only touching her knee. In reality, essentially every scene of American Pie with Biggs' character is fit to be so awkward that it brushes shoulders with a shade of adolescent sexual truth, but the Nadia webcam scene is legendary.