Watch This Straight Mormon Expertly Photobomb a Creepy Anti-Gay Rally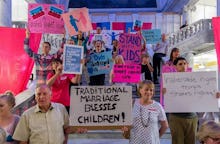 Now this is how you photobomb. 
Twenty-two-year-old Justin Anderson, a straight, Mormon student at the LDS Business College in Salt Lake City, recently attended a "traditional marriage" rally at Utah's state capitol building in protest of marriage equality, reports BuzzFeed. Currently, Utah's same-sex marriage ban is pending before a federal appeals court, with federal precedent indicating that the ban will be overturned.
The Mormon-led community that congregated in the capitol's rotunda on Sept. 18 demanded that the ban remain in place in order to save and protect children, and held placards reading "Marriage means a mother and a father for every child," "A states' rights issue" and "Traditional marriage blesses children." Anderson, who attended the rally because he wants to be "on the right side of history," was not exactly embraced by the other protesters, with an old couple even telling him to "take [his] gay agenda and burn in hell."
Image Credit: James Dabakis/Facebook
Anderson's story gained momentum on the Internet after Democratic Utah State Sen. James Dabakis. posted photos of the event in hopes of identifying the young man. "Who is this hero — this man with the sad eyes and the brave sign — standing alone at the anti-marriage equality rally?" Dabakis wrote, before offering a prize to the first person who could identify Anderson. He hoped that politicians could "salute him for going into the belly of the beast and having such courage."
When Anderson was eventually identified, Dabakis took to social media again to praise this local "hero," who joined Dabakis at the Equality Utah Dinner on Sept. 26. "Drop by and give this brave young man a big congratulations," he said.
Image Credit: James Dabakis/Facebook
Of course, Anderson hasn't been receiving universal praise.  "People have been trying to reach out to me with concern, saying they're worried about me and can't understand why I would do this, especially because I'm a straight person," he told BuzzFeed. "I've been warned with people telling me they want to dissociate with me because they can't be friends with someone who stands for marriage equality."
Still, he maintain that he regrets nothing about the impromptu photo op.
"I know I'll be on the right side of history," he told BuzzFeed. "There are a lot of people in the Utah community who are afraid to stand up and speak out even if they agree because they're afraid of the backlash. I hope other people will be inspired to stand up as well. You should never be ashamed of something you've done when what you've done is right."