Why 'Shonda Rhimes Night' Is an Enormous Triumph for Television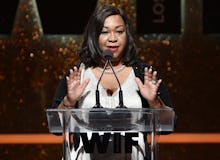 If aliens visited Earth on Thursday nights and watched prime-time television to study the human experience, they'd believe the best TV shows were written, created or produced by black women, specifically one woman named Shonda Rhimes. They'd assume black women were the most powerful people in media and that all TV shows feature complex, funny and intelligent female characters in central roles.
We would, of course, be obliged to inform these dear aliens that what they're watching is not actually a reflection of media today: It's the work of one woman and savvy decisions by one network.
Women are still vastly underrepresented in television, making up only 28% of behind-the-scenes roles on prime-time network TV, according to a study this year by the nonprofit Women's Media Center. For that reason, and many others, ABC's "Shonda Rhimes night" is an inspiring, game-changing moment for women in television — and also a ratings smash.
Television has been battling its woman problem for years, and Rhimes' works are not just great shows with hashtag-worthy plot twists, they're the cornerstone in taking television into the next phase of equality.
Image Credit: Getty Images
The Rhimes-ian line up, featuring Grey's Anatomy, Scandal and the new How to Get Away with Murder, is affectionately called "Shonda Rhimes night" not because she rules Earth's airwaves (though she is arguably the most powerful person in network TV right now), but because her worlds have helped her connect with 14 million viewers craving smart, relatable programming that depicts life from a woman's perspective. It's not every day that a three-hour block of programming is defined by one person, and the fact that person is a woman makes the history making moment even more resonant.
Image Credit: Getty Images
Yet despite all of Rhimes' success, women remain vastly underrepresented in television production. Although women make up more than half of the United States population, they only account for 34% of TV writers, 27% of producers and 12% of directors. With Kerry Washington portraying a whip-smart crisis manager, Ellen Pompeo the fearless Dr. Grey, and Viola Davis as professor Annalise Keating, it would seem absurd that only 43% of speaking roles on prime-time TV today go to women. And this doesn't even take into account what those women actually say.
Female characters on TV are less likely to be seen working compared with their male counterparts. But Rhimes and her shows have steamrolled TV's gender discrepancy and brought strong, professional female characters, with layered and engaging dialogue, to a male-dominated industry. It's a triumph.
Rhimes' Thursday night lineup is powerful, not just because of what it is, but because of what it is doing. Turn to any other network with original programming and you'll now see a hefty list of female-driven shows with women in high-profile occupations. NBC, for example, has heavily pushed its "Woman Crush Wednesday" lineup, featuring three shows with lead female characters working in law enforcement. Considering that the percentage of women on screen increases nearly 10% with just one female writer or creator on board, it's safe to assume broadcast networks have taken the Rhimes success memo and are working to diversify their team behind the scenes.
Image Credit: Getty Images
Rhimes is evening playing field bit by bit to prove that despite the statistics, women can be a formidable force on both sides of the camera.
While "Shonda Rhimes night" does not yet reflect the industry as a whole, it does reflect the real women tuning in every week. And with the lineup being a ratings win, well, that's a win for all of us.