The Most Magical Moments of Global Citizen Festival Show the True Impact of Music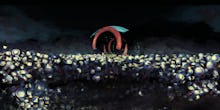 Frank Sinatra opened Jay Z's headlining set at this year's Global Citizen Festival. Before the new king took the stage, the old reigned supreme through a vintage recording of "New York, New York." At the end, Sinatra sang, "New York, it's up to you!" to a crowd of 60,000. The words rang out over Central Park, fading into a moment of silence. Then Jay Z emerged from a cloud of smoke, the beat from "Empire State of Mind" dropped and everyone joined in ecstatic song.
The New York-centricity of this epic finale may not seem fitting for a "global" music festival at first. In fact, all the festival's acts save one, Dutch DJ Tiesto, were American. The Roots, Carrie Underwood, No Doubt, Jay Z and Fun all drove the point home: The Global Citizen's Festival isn't about showcasing world music, but showing how music can bring together a world and unite minds to work towards higher goals — goals that can only be achieved if we as a species can join together in work as we can in song.
All day, attendees heard political leaders, business leaders and cultural leaders enumerate the world's ills and talk hopefully about programs designed to combat them. Many hit the same point: New Yorkers' unparalleled access to technology, money and cultural influence puts them in a unique position to help the world's poor. Singing along to Sinatra, it all seemed so simple. If New Yorkers keep organizing, dedicating time and energy to get money into the hands of those that need it, they might actually be able to satisfy the Global Citizen Festival's lofty goal to end global poverty by 2030.
But it was the music that really showed what we need to do if we're going to achieve such ambitious ends.
Alicia Keys, a surprise addition to the bill, brought together musicians from Israel and Palestine to harmonize on her song "We Are Here" as a call for peace. "If you believe in peace, grab the hand of the person next to you and put in the air," she cried. "Help me sing these words: 'We are here. We are here for all of us.'"
"This is a great city. It has assimilated the world in itself," said Indian Prime Minister Narendra Modi in a speech between sets by Fun and Carrie Underwood. "Today, you have shown that you also care for the world outside." Modi also pledged to do his part to end the "poo taboo" by committing $19 billion to provide toilets for every Indian citizen by 2019.
A beautiful line of women in traditional African headwraps joined the Roots to sing a cover of Fela Kuti's water rights manifesto "Water No Get Enemy."
The hook to No Doubt's "I'm Just A Girl" never felt like more of a radical political statement than when politicians and activists described how poverty disproportionately affects women and girls around the world.
No Doubt also left their mark on politics by photobombing a selfie taken by U.N. Secretary-General Ban Ki-moon and actor Hugh Jackman. The photograph was meant to immortalize Ban's commitment to challenging world leaders to outline a full plan to end global poverty the next time they all meet at the organization's global headquarters in New York City.
Music can't solve any of the global problems the festival outlined on its own. But it can bring together people from disparate backgrounds and connect them in a way no other art form can. Music literally syncs people's minds, piques the emotions more than plain speech and naturally allows for greater audience participation.
During Jay Z's last song, that power became abundantly clear. All the instruments cut out as the whole park sang the hook to "Forever Young" along with Beyoncé, every one of the 60,000 aligned.
These moments of music-fueled connection likely did more to confirm the audience's determination to make the world a better place than any of the speeches or videos. That's the meaning of the global citizen — finding what it takes to become more than a lone person in the world.
Hero image by Tri Branch Vo.
All photo credits: Getty Images.