Here's What Happened at Serbia's First LGBT Pride March in Four Years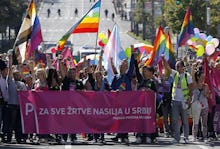 The good news: Serbia held its first pro-LGBT rally since 2010 Sunday when it hosted a gay pride march through the streets of Belgrade.
The better news: It was the first time in over a decade the event didn't erupt in violence.
VICE News reports the peace came at a cost: "[Several] thousand" police lined the streets and patrolled the air in helicopters to protect an estimated 1,000 marchers from homophobic zealots. The only wrinkles were a few "minor" skirmishes, including one involving a group of 50 anti-LGBT protesters who threw stones at a police barricade set up to prevent them from attacking the celebrants.
"This is just a start," march organizer Goran Miletic told VICE News. "Next year, we will have less policemen, and less every year, until we will all walk free, with no need for such security."
Here's what the march looked like:
Background: A LGBT pride rally free of bigoted violence may seem like a minor victory. But for the previous four years, Serbian authorities banned the event in response to a brutal riot that occurred Oct. 10, 2010.
On that day, a mob of far-right groups and ultranationalists attacked Belgrade's gay pride celebration, firing guns and throwing petrol bombs at government buildings, setting cars ablaze, looting shops and hurling bricks and firecrackers at police deployed to protect the march, according to the Guardian.
At one point, rioters hijacked a city bus, ordered the driver and passengers out, and pushed it down a hill into one of Belgrade's main squares. Throughout the chaos, attackers were heard chanting, "Death to homosexuals!" the Guardian reported.
Aftermath: The violence resulted in 57 injuries, including to 47 police officers.
Homophobic sentiment is no stranger to Serbia, as a 2009 report published by the Council of Europe attests: Its survey found that 70% of respondents "considered homosexuality to be a sickness," while just 7% thought gay pride marches were "a legitimate way of seeking rights for LGBT people."
But the destruction of October 2010 had an especially chilling effect on pride events for years to come, as government concerns about potential violence trumped its willingness to physically repel attacks against LGBT celebrants and allies. That changed this year, as Serbia bowed to pressure from the European Union, which it hopes to join, the Huffington Post reported.
It's a small but positive step in the right direction, and a hard-won victory for the region's LGBT community. Let's hope there'll be many more in the years to come.