Aretha Franklin's Live Performance of 'Rolling in the Deep' Is the Best Thing You'll Hear Today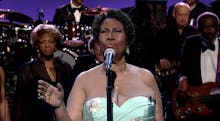 In a surprise online release Monday evening, Aretha Franklin and her classic pipes wowed everyone just hours before she was set to appear on the Late Show with David Letterman. The "Respect" and "Never Loved a Man" singer could probably belt the phone book and make it a hit if she wanted to — but instead, she opted to cover what's become an instant classic in itself: Adele's "Rolling in the Deep."
The cover sent the Internet into a frenzy. And then she went on Letterman and did this:
Franklin not only soared to the rafters on the track, she literally launched it into new heights during the outro, underlaying "Ain't No Mountain High Enough" as she riffed on the Adele track. The keen twist on a song that already has all the trappings of a pop and R&B hit — a simple melody, strong beat, themes of anger in heartbreak — added just enough flair to take another diva's song and uniquely make it her own. And she did it with longtime friend and back-up singer Cissy Houston (Whitney Houston's mom) by her side.
If Franklin's cover of Adele is any indication, fans should have high expectations for her upcoming Oct. 21 album release, Aretha Franklin Sings The Great Diva Classics, which boasts 10 new covers, including Whitney Houston's take on Chaka Khan's "I'm Every Woman," Gladys Knight's "Midnight Train to Georgia" and Etta James' "At Last." It's being produced by a who's who of the music industry, including Clive Davis (the man behind the Backstreet Boys and Houston's producer), Andre 3000 and Kenneth "Babyface" Edmonds.
The cover by no means diminishes the strength of the original — Adele's version is just as amazing. But no matter who else steps to a microphone, there is only one queen. And she's taking this moment in music to tip her hat to other strong female vocalists, many of whom can look at their careers and musical influences, and pay a bevy of gratitude to a woman who made it all possible.
h/t The Raw Story