The 'Inherent Vice' Trailer Is Finally Here, and It's Better Than We Could Have Dreamed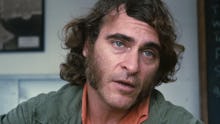 The news: After months of anticipation, the trailer for Paul Thomas Anderson's Inherent Vice is here — and by the looks of it, its Dec. 12 release date can't come soon enough.
The film is an adaptation of the Thomas Pynchon novel of the same name, and it stars Joaquin Phoenix, Josh Brolin, Benicio del Toro, Reese Witherspoon and Owen Wilson among others. It also features singer Joanna Newsom as narrator, marking her first film role. 
Set in Los Angeles in the 1970s and featuring a star-studded cast with lots of frenzied action, Inherent Vice vaguely resembles 2013's American Hustle, as the Guardian points out. Brolin called the shooting experience "absolute fucking chaos," and after seeing him yelling wildly in a foreign language in the trailer, we're pretty sure that description is accurate.
Along with exceeding our wildest expectations, the trailer also provides a glimpse into Anderson's comedic side — something we haven't seen in a long time, given his most recent films were The Master and There Will Be Blood. In this vein, Inherent Vice looks to be closer to Boogie Nights, Anderson's 1997 film about the '70s porn industry.
Anderson himself compared it to a Cheech & Chong movie. 
"There's so much [material to adapt]," he told Empire of working with the Pynchon novel. "But it's fun too because they're his words, and ... it's like taking your dad's car for a ride, y'know?"
He's not the only one that's excited. People took to Twitter to declare their delight:  
The film premieres Oct. 4 at the New York Film Festival and opens for limited release on Dec. 12. Until then, however, we'll be following this guy's lead.