15-Year-Old Boy's Awesome Open Letter Highlights the Power of Feminist Role Models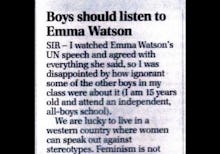 For those who think it's pointless for celebrities like Emma Watson, Taylor Swift or Beyoncé to publicly promote feminism, one teenage boy is about to prove you wrong is a very big way.
Love it or hate it, Watson's He for She speech is already making a discernible impact. Meet Ed Holtom of Hertfordshire, a 15-year-old U.K. boy who recently wrote an open letter challenging his peers to stop perpetuating nasty stereotypes and instead offer their support for gender equality.
Holtom attends an all-boys school where he said many of his classmates didn't take kindly to Watson's words. Holtom disagreed, so much so that he penned the now viral missive in order to reaffirm Watson's call for men to join the dialogue on feminism.
"Feminism is not about man-hating or female supremacy. It is, by definition, the opposite," Holtom wrote, in an edited version of the letter published by the Telegraph. Clearly educated in some level of feminist theory, Holtom even references the now iconic Chimananda Ngozi Adichie quote, reproduced in Beyoncé's song "Flawless," to define what feminism actually means.
"It's pretty simple, really: If you believe in the social, political and economic equality of the sexes, you're a feminist."
Holtom also discusses why it's important to question stereotypes — whether they refer to men or women — pushing his peers to focus more on individuality and empowerment.
"If we want equality, it will take more effort than paying women the same as men, or giving women equal opportunities," he noted. "We must stop pressuring each other to fit stereotypes which more often than not leaves us feeling repressed an unable to express ourselves. We must not let our gender define us."
Image Credit: Foot Down 4 Feminism via Twitter
In an interview with BuzzFeed, Holtom revealed that he was inspired both by Watson's speech and by Beyonce's example of how female empowerment takes many different shapes, including sexual liberation. The letter itself was an abridged version of a larger essay, in which Holtom also says people should learn to stop caring about gender.
"Stop caring about another person's sexual preference, stop caring about how far someone fits in with the stereotype and stop caring, most of all, about how much we fit this stereotype." he said in the expanded letter, obtained by BuzzFeed. "We must not let gender define us."
Even though a "post-gender" approach arguably isn't the most efficient way to tackle such a stark disparity between the sexes, Holtom's letter proves that some male voices can add value to the feminist cause.
More importantly, however, the viral moment speaks volumes about the power of educated celebrity platforms to introduce new generations of people to conversations about social and political issues.