Michigan Coach Brady Hoke Should Be Fired — And Not Because Michigan Sucks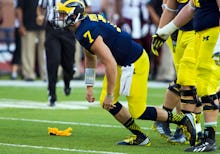 It was already a bad day for the Michigan Wolverines.
The mighty Michigan football team, the one with the most wins in college football history, was 2-2, and had already been shut out by Notre Dame on the road and embarrassed by Utah at its own stadium. Now they were losing at home to Minnesota, a rivalry game the Wolverines usually dominate. This was coming off a season where Michigan went 7-6 and lost in a bowl game sponsored by Buffalo Wild Wings. Not exactly the Rose Bowl.
Much of the blame fell on Brady Hoke, Michigan's fourth-year coach. After Saturday's 30-14 loss to Minnesota, Hoke's record as the Wolverines' coach fell to 28-16. After winning the Sugar Bowl in his first season, 2014 looks to be Hoke's third consecutive disappointing year.
But a lot of Saturday's postgame criticism came not for Hoke's record but for what happened with sophomore quarterback Shane Morris. With Michigan down 30-7 early in the fourth quarter, Morris took a vicious hit from Minnesota's Theiren Cockran. After the hit, which should have been penalized, Morris looked like an overmatched prizefighter who'd just been knocked senseless. He got to his feet and wobbled. He leaned on offensive lineman Ben Braden for support. Two players appeared to gesture to the sideline to call for the training staff. Any competent boxing referee would have ended a fight there.
After initially heading toward the sideline, Morris waved off a replacement. He stayed in the game, throwing one more pass — incomplete — before senior Devin Gardner entered. Yet Morris came back in (to hand off the ball) after Gardner's helmet came off, forcing him to sit out one play. Morris eventually left on a cart.
Morris appeared to have a concussion — or, at the very least, certainly needed to be tested for one. It was obvious.
"Brady Hoke's Dangerous Incompetence So Bad ESPN Announcers Denounce It," Deadspin's headline declared. "I gotta tell you that Number 7 is still in this game — is appalling," color analyst Ed Cunningham said. "It is appalling that he was left in on that play." The story got big enough that it was on ABC's World News Tonight on Monday.
There are NCAA concussion guidelines that mandate Morris should have been removed from the game: "All student-athletes who are experiencing signs, symptoms or behaviors consistent with a sport-related concussion, at rest or with exertion, must be removed from practice or competition and referred to an athletic trainer or team physician with experience in concussion management."
Hoke said after the game he had no idea if Morris was concussed.
Image Credit: Getty
"I didn't see it," he said of the play where his quarterback was hit right after throwing the ball. "I can only answer for me." Later, he added: "Shane's a pretty competitive, tough kid. And Shane wanted to be the quarterback, and so, believe me, if he didn't want to be he would've come to the sideline or stayed down."
Toughness is among the most praised attributes an athlete can have. Wimps aren't allowed to play. In August, the NFL website ranked the toughest college players. Former NFL quarterback Byron Leftwich is best known for being carried down the field by his Marshall teammates as he attempted a two-minute drill. But it's not just football. Picture Curt Schilling pitching as his ankle bled through his sock. Every four years, NBC trots out footage of Kerri Strug winning gold on the vault on one foot in the Olympics.
But football players are considered particularly tough. Forbes even ran a story last year: "Three Ways to Be As Mentally Tough As A Pro Football Player." Football players are instructed to be tough from pee-wee leagues. Although this is true of all sports, football's macho culture makes the situation more dangerous.
We only know some of the risks of head injuries in football, even sub-concussive hits, and they are sobering. One only need look at the list of NFL players who have committed suicide or former Alabama star Kevin Turner, now diagnosed with ALS, to see the sport's dangers. Just Monday, it was revealed Jovan Belcher, the Kansas City Chiefs linebacker who killed his girlfriend then himself in in 2012, was suffering from CTE, the degenerative brain disease commonly linked to sport-related head injuries. 
That this is college football — nominally, at least, the realm of the amateur — makes the situation even worse for players. Although Morris is the starting quarterback of the team that packs in more than 100,000 fans into the Big House a half-dozen Saturdays a year, he can't get worker's compensation if he's injured.
"Using the 'student-athlete' defense, colleges have compiled a string of victories in liability cases," historian Taylor Branch wrote in the Atlantic in 2011.
A study by the Cleveland Clinic showed college football players "may experience significant and long-term brain damage" even when they weren't concussed. If colleges aren't going to pay for players' health problems stemming from football, they should take extra care in watching their health. But here's the problem: The concussion guidelines that Michigan didn't follow are just that — guidelines. The school did not break any rules.
In fact, from his postgame comments Hoke seemed woefully undereducated on the NCAA concussion guidelines, and even on the dangers of the sport he coaches. Hoke didn't even know if Morris was tested for a concussion ("I assume so," he said). Hoke said the next day Morris did not have a concussion, and that he would have practiced Monday if not for a high-ankle sprain.
The university eventually reversed course, issuing a statement around 1 a.m. Tuesday saying Morris did have a concussion, and apologizing. Athletic director Dave Brandon blamed "confusion" for Morris going back into the game.
"Unfortunately, this confusion created a circumstance that was not in the best interest of one of our student-athletes," Brandon said in the statement. "I sincerely apologize for the mistakes that were made. We have to learn from this situation, and moving forward, we will make important changes so we can fully live up to our shared goal of putting student-athlete safety first."
In an impassioned editorial Monday, even before the official university statement, the Michigan Daily had called on Hoke to be fired.
Whether Hoke witnessed what occurred on the field or not, it's his job to know everything that goes on around his football team, with the health of players at the forefront of those responsibilities. ... This isn't about winning and losing anymore. It isn't about hot seats or upholding tradition. This is about the well-being of players, and whether they're prepared to lead a life outside of football. Brady Hoke's actions were indefensible, and we can no longer stand behind his employment at Michigan.
Hoke has his defenders. ESPN analyst Kirk Herbstreit called it a "witch hunt." Or, more specifically, a #witchhunt: "Is this Hoke criticism about Morris' injury even a story if UM were 4-0 ranked in the top 10?" he tweeted. In a second tweet: "I'm not saying head injuries aren't VERY serious, just saying the reaction is over the top because of how badly UM is playing under Hoke." Basically, Herbstreit thinks Hoke deserves less scrutiny because he has a losing record. This is nonsense.
But this really isn't about Hoke specifically. It's about making sure coaches like Hoke don't get a player killed. Toughness can win you a lot of football games. It can also ruin your life. Go back to Hoke's postgame comments: "I don't know if he had a concussion or not, I don't know that. Shane's a pretty competitive, tough kid. And Shane wanted to be the quarterback, and so, believe me, if he didn't want to be he would've come to the sideline or stayed down."
These are college kids. They're football players. They don't want to let their team down. Of course Morris wanted to stay in the game. Hoke no doubt likes to see that toughness in his quarterback.
But Hoke shouldn't have let him stay in. It's clear from his actions the NCAA has not done enough to educate its coaches about head injuries. The NCAA fines and hands down sanctions to schools for minor infractions. It's time to turn those concussion "guidelines" into "rules."