The NFL Is Sorry That a Muslim Player Received a Penalty for His End Zone Prayer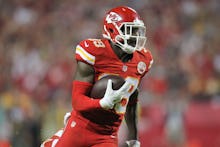 Another week done, another PR disaster for the NFL.
This one came in the middle of Monday Night Football, after Kansas City Chiefs safety Husain Abdullah returned an interception for a touchdown. Abdullah is a practicing Muslim — he even skipped an entire football season to make a pilgrimage to Mecca — and prostrated himself in the end zone in prayer. The result? A 15-yard penalty for excessive celebration.
The NFL apologized afterward, with the vice president of communications Michael Signora tweeting that Abdullah's prayer should not have been called a penalty.
Going to the ground: The call from the referee was "unsportsmanlike conduct, going to the ground." That's in the NFL rulebook, where it says that "players are prohibited from engaging in any celebrations while on the ground."
There's an exception, though. As Mike Pereira, the NFL's former vice president of officiating, has noted, players generally aren't flagged for "going to the ground" if it's a religious display. 
You've undoubtedly seen such displays if you've watched even a little bit of football before this.
Slide rule: In the aftermath of the call, some thought maybe Abdullah was flagged for sliding in the end zone before kneeling down. That's what Abdullah himself assumed, which he notes about 46 seconds into this radio interview:
The NFL apology seems to make that a moot point, though maybe the ref whistled Abdullah for the slide and the league apologized anyway, not wanting to seem as evil as it has recently.
Even if that were the case, though, sliding on your knees is a pretty pathetic celebration to call "excessive." It happens all the time in soccer, hockey and baseball (basketball has those pesky hardwood floors). Does the NFL really aspire to be less fun than all those other sports?
Whether the original flag came from the slide or the prayer, Kansas City coach Andy Reid said it best: "When you go to Mecca, you should be able to slide wherever you want," he told reporters after the game. "We've got two priests in here. They'd probably vouch for me."
h/t SB Nation