One Disturbing Statistic Captures What We're Doing to the World's Animals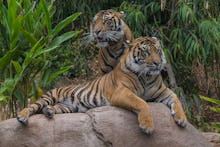 52%: That's how much of the world's wildlife population has disappeared in the last 40 years.
A recent analysis by the World Wildlife Fund and the Zoological Society of London has discovered something they describe as "not for the faint-hearted" — humans are rapidly killing off every other animal life-form on the planet. 
Researchers looked at data for 10,380 populations of birds, fish and animals across 3,038 species, and estimated the health of all 45,000 known vertebrate species on the planet. The findings? The planet has just around half of the wild animals it did just four decades ago.
"We have lost one half of the animal population and knowing this is driven by human consumption, this is clearly a call to arms and we must act now," Mike Barratt, World Wildlife Fund's director of science and policy, told the Guardian.
Certain species have been especially devastated, like freshwater animals, who have seen an astonishing 76% decline in population size. But terrestrial and marine species didn't fare well either, losing nearly 40% of their members.
An underestimated catastrophe: The rate of wildlife decline is especially alarming because it's much higher than previously estimated. In 2012, a similar study by the World Wildlife Fund concluded that population sizes had declined by a smaller 28%, which was still pretty serious, but not quite as bad as the new numbers. World Wildlife Fund scientists realized that the previous work had relied too heavily on trends from North America and Europe, where wildlife is faring far better than regions such as Latin America and Southeast Asia.
According to the World Wildlife Fund, the primary threats to animal populations are exploitation and habitat degradation, followed by habitat loss, climate change and invasive species. Pollution and disease bring up the rear.
The World Wildlife Fund found that both environmental protection and conservation measures had garnered a mixed record, with some species such as the Bengal tiger faring pretty well, while others like the black and white rhinos have remained in serious decline. The wildlife fund says that the disappearance of large mammals like rhinos is, in many cases, due to insufficient protections against poaching.
Tropical regions are faring especially poorly, the World Wildlife Fund reports, and some ecosystems have lost enough of their diversity to threaten their survival.
Biodiversity is declining in both temperate and tropical regions, but the decline is greater in the tropics. The tropical LPI shows a 56 per cent reduction in 3,811 populations of 1,638 species from 1970 to 2010. The 6,569 populations of 1,606 species in the temperate LPI declined by 36 per cent over the same period. Latin America shows the most dramatic decline – a fall of 83 per cent.
In a video summary, director Marco Lambertini explains that far from reducing our impact on wildlife, humans continue to have an increasing negative effect on the ecosystems surrounding them. In other words, there's no indication that the problem will get anything but worse without concerted international action.
"Given the pace and scale of change, we can no longer exclude the possibility of reaching critical tipping points that could abruptly and irreversibly change living conditions on Earth," the report says.
The whole index is available online and contains a treasure trove of data. The World Wildlife Fund writes that it may seem "so worrying that it may seem difficult to feel positive about the future," but encourages readers to look forward to solutions rather than lament the damage that's already been done.