NFL Player Who Murdered His Girlfriend, Committed Suicide Showed Signs of Brain Damage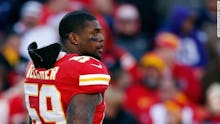 Jovan Belcher, the Kansas City Chiefs linebacker who shot his 22-year-old girlfriend then committed suicide at the team's training facility in 2012, suffered from chronic traumatic encephalopathy, according to a new report released Monday. 
CTE, the progressive neurodegenerative disease that has been linked to repeated head trauma, has been found in more than 50 former NFL players. It's been proven the numerous concussions, head injuries and tackles players absorb throughout their careers has a direct corelation with the onset of CTE, which is also found in the brains of athletes in other high-contact sports like rugby and boxing. The disease, which counts dementia, memory loss and depression among its visible symptoms, can only be diagnosed and confirmed after the person's death.
Concussions and the NFL's neglect in treatments and informing its players of the repercussions that head injuries could have on their future life has become the bane of the league's legal department as more than 4,500 players are involved in a settlement lawsuit. 
If it is confirmed that Belcher, who was 25 when he killed himself, had CTE, his mother, Cheryl Shepherd, and his 3-year-old daughter could claim up to $4 million in settlement. Belcher's brain was examined a year after his death and ESPN's Outside the Lines has obtained a report in which neuropathologist Peotr Kozlowski wrote that he found neurofibrillary tangles of tau protein, which is a strong identifier for CTE that would not otherwise be found in a young person's brain. 
The connection between football and CTE was first determined in 2002 when Pittsburgh Steelers starting center Mike Webster's brain was autopsied and found to have CTE. Retired San Diego Chargers linebacker Junior Seau and Chicago Bears defensive back Dave Duerson also had CTE when they took their lives in 2012 and 2011, respectively.