The First Trailer for 'Taken 3' Is Nothing But Amazing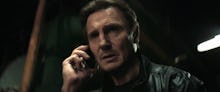 When Liam Neeson, a.k.a Bryan Mills, first told us he had a particular set of skills, skills he had acquired over a very long career, skills that make him a nightmare for people like you, we knew a new action hero had arrived. When he did it again, we were just as excited. Neeson has now returned for a third time, and it looks amazing. 
The first trailer for Taken 3, which will be known as Tak3n and premiered Tuesday, looks like an action-packed thrill ride. Take a look:
From the looks of the two-and-a-half minute trailer, the action starts pretty quickly as Mills is also  thrown into a cat and mouse game where he's chasing after his wife's murderer/his daughter's kidnapper while the U.S. government is chasing after him, which is an added twist and a bit of a departure from the series' previous two incarnations.
"I have to go on the run, I'll put it that way, from the not-so-lawful types and the lawful authorities," Neeson told USA Today. "Bryan Mills served his country faithfully, but now even they are after him. They must not like me."
According to the official description:
Liam Neeson returns as ex-covert operative Bryan Mills, whose reconciliation with his ex-wife is tragically cut short when she is brutally murdered. Consumed with rage, and framed for the crime, he goes on the run to evade the relentless pursuit of the CIA, FBI and the police. For one last time, Mills must use his "particular set of skills," to track down the real killers, exact his unique brand of justice, and protect the only thing that matters to him now – his daughter.
Famke Janssen and Maggie Grace will reprise their roles as as Mills' ex-wife and daughter, respectively, while Forrest Whitaker will join for the final series installment. Olivier Megaton, who directed Taken 2, is also back for the third film.
Needless to say, Tak3n is going to add a whole lot of notches to Liam Neeson's "Kill Map."
Of course, by the time a movie franchise gets the its third installment, there's always a bit of concern that the shtick gets old or that they've run out of ideas, but the Taken franchise was always based on a pretty simple idea: Make Neeson mad and let him loose in every badass way possible. 
By the time we've reached Tak3n, the filmmakers seem to have boiled that down to a pretty simple idea and are making it sing in every possible way. Sure, the plot of Tak3n isn't exactly new (The Fugitive, Shooter and The Next Three Days immediately come to mind), but sometimes recognizing your trope and making the best of it is the right formula for a totally badass action movie. Besides, if Tak3n is even a fraction as amazing as the phone scene from Taken, we'll be just fine. 
Tak3n is slated to hit theaters Jan. 9, 2015.