Science Determines America's Most Hated Baseball Playoff Teams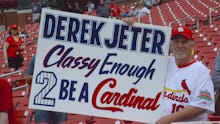 Do you want the nation's neutral baseball fans to fall in love with your team as it makes a World Series push?
If so, calling yourselves the best baseball fans in America definitely is not the right approach.
It's precisely shenanigans like this — and winning a lot — that has earned the St. Louis Cardinals the title of the most hateable team among the 10 left standing in the Wall Street Journal's second annual, highly scientific MLB Postseason Hateability Index.
The Cards' ever-loyal, ever-insufferable fans weren't the only factor pushing their team to the top, though. Other factors, including St. Louis winning four pennants in the last 10 years and having the audacity to field PED-using Jhonny Peralta and beard-sporting Jason Motte all helped St. Louis earn a 12.7 hateability score, 2.1 more than the Los Angeles Dodgers.
The Dodgers may still have the highest payroll in baseball at $240 million, but at least they've been longtime playoff underachievers, having not won the National League pennant since 1988.
As much as the Dodgers' underdog spirit may be endearing, it's no match for the improbable story of the Kansas City Royals (hateability score: 2.5), who are making their first postseason appearance since defeating St. Louis in the 1985 World Series. The Cardinals fans can tell you all about it.