Sweden's Next Female Pop Export Is Unlike Anything You've Heard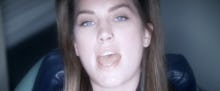 "I want to be a pop star, " 29-year-old singer Elliphant told Seen Heard Known. "I never wanted that before, but now I want that. I want to do pop music with a message. I want to be true, and be a pop star. I want to be able to speak to a lot of people, because I feel I can use it to really make a difference. I want more power than a politician."
Her bold wishes aren't so far-fetched. Everybody knows that Sweden really brings their A-game when it comes to churning out fresh new pop music. But their newest export, Elliphant, is unlike anything to come out of the country before. Elliphant — or Ellinor Olovsdotter — is the next big thing in American pop: a pop star who refuses to play pop's game, synthesizing rap, pop, electronic, rock, reggae and dancehall into an almighty feminist sound. And in a week, her new EP is finally going to break her onto the American scene. Once she's here, there's a lot she wants to say.
Billed as "Sweden's most unconventional pop star," Olovsdotter describes her music as "provocative pop music." Elliphant hasn't quite broken into the mainstream, but she's making waves across the Atlantic. She signed with Dr. Luke in 2013, arguably the only man who can rival Max Martin's hit-making prowess. He's the producer behind hits like Kelly Clarkson's "Since U Been Gone," Katy Perry's "I Kissed a Girl" and "Roar," Miley Cyrus' "Wrecking Ball" and even Pitbull's "Timber." His show of faith in Elliphant has sparked interest across the industry. In fact, Perry is a big fan herself, describing Elliphant's "Down on Life" video as "[o]ne of the most badass music videos I've seen in a long time!"
The reason for her affinity is obvious. It's abundantly clear that Elliphant has a lot to say, being an advocate for animal rights and feminism. When asked if she was excited about the shoutout from Katy Perry, she answered, "I'm not super excited that it's Katy Perry, but more that she is a woman who stands up for another woman ... As an artist, you have a responsibility to be true to your fans because your fans are growing up in this world. I won't take that responsibility by being a nice girl. I will take it by showing how hard life is and how hard it can be to be a woman."
That's the attitude that people across the music industry are rallying around. Perry's preferred song and video are a perfect example of Elliphant's unflinching boldness. At the heart of the pop music scene, where everything is carefully choreographed and women are expected to perform cookie-cutter sexuality and politeness, Elliphant is singing lines like "I'm like a finger up your ass now / Why not give it to me?"
"I love dark music and dirty words," she told MTV Iggy. "Sometimes when I'm writing lyrics, I think, 'Is this even OK to say?' But that's me. I'm a filthy girl."
This sort of open sexuality is part of the singer's bold public persona, too. Olovsdotter developed her admirable propensity for open conversation on sexuality and other controversial issues when she started traveling as a young woman to escape from an unhappy childhood. It was during her travels that she met the collaborators who would help create Elliphant in 2011. From there, her rise to fame was instantaneous. After her first single, "Tekkno Scene," Elliphant began garnering rave reviews from the likes of Pitchfork and the Guardian. A year after that, she was signed with the legendary Dr. Luke, and the high-profile fans kept rolling in. Skrillex and Diplo even joined her on her last EP.
She's been playing the game flawlessly for her whole career, but unlike many stars who leverage featured artists and shock value simply so they'll be noticed, Elliphant has a real social consciousness behind her performance. She's hear to make noise because she knows what the pop audience too often refuses to focus on. In a week, when her new EP drops, there will be a new queen in the American pop scene.