Here's Why a Vermont College Invited a Convicted Felon to Be Its Commencement Speaker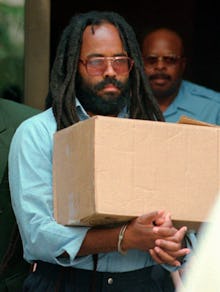 The news: Given all the hoopla that goes into selecting graduation speakers, you might find it odd that students at a small college in Vermont invited a convicted murderer to deliver their commencement address.
But the 23 graduating seniors at Goddard College chose as their graduation speaker the famous convicted journalist Mumia Abu-Jamal, who received a Bachelor of Arts degree from the school in 1996 after completing his coursework via mail. An inmate at the Mahanoy State Correctional Institution in Frackville, Pa., Abu-Jamal prerecorded his address, which was played at the ceremony Sunday.
"As a reflection of Goddard's individualized and transformational educational model, our commencements are intimate affairs where each student serves as her or his own valedictorian, and each class chooses its own speaker," Goddard College interim President Bob Kenny said in a statement. "Choosing Mumia as their commencement speaker, to me, shows how this newest group of Goddard graduates expresses their freedom to engage and think radically and critically in a world that often sets up barriers to do just that."
It's certainly a controversial choice. The decision to invite Abu-Jamal as commencement speaker has been heavily criticized by police and corrections groups; after all, he was convicted in 1981 for killing a cop.
But for Abu-Jamal's supporters, who believe he is innocent, his story is one of racial injustice and discrimination in the U.S. justice system. Even for unbiased observers, there are troubling facts about his trial and conviction. As the Guardian notes, much evidence has emerged since the original trial that the police officers involved in the investigation were at best not thorough and at worst downright abusive and discriminatory:
Abu-Jamal's gun was never tested to see whether it had been fired; his hands were never swabbed to establish whether he had fired it; and his gun's bullets were never solidly linked to those that killed Faulkner. The crime scene was never secured.
Abu-Jamal's trial was also riddled with controversy, and in 2001, a federal judge overturned his death penalty ruling after determining that the errors made in the original trial made the sentence unconstitutional — and the sentence was commuted to life imprisonment without parole.
Since then, Abu-Jamal has become a celebrity through his articles, books, commentaries and prison radio show, and is now "perhaps the world's best known death-row inmate," as described by the New York Times.
Given how Abu-Jamal has high-profile supporters and detractors throughout the world, Goddard College students' decision to invite him as commence speaker was probably not an easy one. Still, despite the backlash, they chose to make a statement about racial injustice in the U.S. criminal justice system. And for a graduating class of just 23, that's a big statement.