One Mayor's Tragic Death Proves Why Every State Needs California's New Gun Law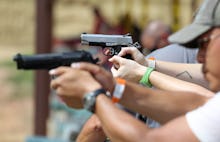 The news: On Tuesday, California became the first state in which relatives can ask a judge to take away a family member's firearm if that person poses a serious safety threat. The very same day, the shooting death of Bell Gardens, Calif., Mayor Daniel Crespo at the hands of his wife during a domestic dispute showed exactly why we need that law. 
A "gun violence restraining order" would prohibit a family member from accessing the weapon or weapons for 21 days to a year, Reuters reports. It also gives authorities the same power, a policy already in place in states like Connecticut, Indiana and Texas.
Crespo's death is especially prescient because, as Al Jazeera noted, the law is largely the result of issues surrounding domestic violence and firearms. It's modeled on a measure already in place that temporarily prevents those with domestic violence restraining orders from owning a gun. It also comes in response to the May 23 mass shooting in which Elliot Rodger shot and killed seven people including himself. 
"If both of these laws had been in place on May 23, things could have been very different," Peter Rodger, Elliot Rodger's father, said in a statement. "California, today, is a safer state because of this legislation. Let's hope other states follow."
The deadly link between domestic violence and firearms: The timing of Crespo's death is a stark reminder of the importance of these laws. Despite some critics' accusations that it infringes on the Second Amendment right to bear arms, it has largely been supported by law enforcement officials, and there's a good reason for that.
Domestic violence and firearm use is not an altogether uncommon occurrence. Between 1980 and 2008, over two-thirds of spouse and ex-spouse homicide victims were casualties of gun use, according to a 2011 Department of Justice report. Domestic violence incidents involving firearms are also 12 times more likely to lead to death than assaults from other weapons or bodily harm. 
"If [the bill] can save one life, one family from that agony, it will be worth it," Hannah-Beth Jackson, a Democratic California state senator, said during debates over the bill. 
Anyone can be a victim. While there is some disagreement over the gender breakdown of domestic assaults — some studies point to women as the primary victims, while others posit that women are actually the main perpetrators — the fact remains that domestic violence is a disturbingly common occurrence. And when guns are added into the mix, nothing good can come of it. 
It's easy to see how the restraining order can be used to prevent potential incidents of domestic violence. Family members — spouses, mothers, aunts and uncles — are often the most acutely aware of intimate partner violence, so it follows that they should be involved stamping it out. 
The law also has the potential to stretch beyond the realm of domestic violence, as the case of Elliot Rodger shows. (Despite his family's concern over the state his mental health, authorities couldn't seize his weapons.) This is decidedly a good thing. The more chances we have to combat incidents mass shootings, which are rising, the better.
Peter Rodger is right. Let's hope other states follow California's lead.