Former NYPD Police Chief Can't Bear to See the End Of 'Stop And Frisk'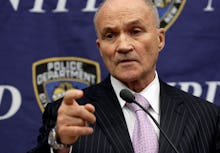 The news: The use of the controversial stop-and-frisk policy in New York City is on the decline, and former NYPD Commissioner Raymond Kelly is going down with the ship.
Kelly, who was the city's police commissioner from 1992 to 1994 and again from 2002 to 2013, remains a staunch supporter of stop-and-frisk tactics, despite the rest of the city's seeming move in the other direction. In an interview with WNYC, he defended the practice and called on New York City Mayor Bill de Blasio to appeal a federal lawsuit against the city for using stop-and-frisk:
I think the lawsuit was an abomination. The judge was removed from the case and I think every indication is if the appeal were allowed to go forward, it would have been reversed and it's a shame Mayor de Blasio did that because I think people will suffer. You see shootings up now; I don't know if there's a direct relationship now, maybe time will tell.
The lawsuit: Floyd v. City of New York is a class-action suit accusing the police department of racial profiling and unconstitutional policies for questioning pedestrians and patting them down for weapons or other contraband.
In 2013, a federal judge found stop-and-frisk unconstitutional. While then-Mayor Michael Bloomberg appealed the ruling, de Blasio, who campaigned against the practice, dropped the appeal earlier this year and decided to settle instead. His treatment of the practice was a clean break from Bloomberg and previous New York City Mayor Rudy Giuliani, much to the chagrin of those like Kelly.
"We're here today to turn the page on one of the most divisive problems in our city," de Blasio said after announcing the settlement, according to the New York Times. "We believe in ending the overuse of stop-and-frisk that has unfairly targeted young African-American and Latino men."
The numbers: It's not just rhetoric; stop-and-frisk really is on its way out.
A New York Times report last month showed a huge drop in police stops in the city, from 337,410 in the first half of 2012 to just 33,699 in the last half of 2013. Stops by week dropped more than 90%, from more than 16,000 in January 2012 to fewer than 2,000 at the end of last year.
Last year, Kelly had said that "no question about it, violent crime will go up" without stop-and-frisk. That hasn't held true. Violent crime is down across the city in 2014, according to the New York Times. While shootings are up from last year, as Kelly said, the murder rate has actually dropped along with the overall violent crime rate.
A year's worth of data, of course, is nowhere near enough to judge the impact of dropping stop-and-frisk, and crime rates are based on so many factors that this one practice might not have much of an effect. But that's exactly de Blasio and others' point. There's no evidence that things have gotten worse without the discriminatory practice. So why keep defending it?
h/t Gawker