For Those Who Won't Read 'Gone Girl' Before the Movie, at Least Read This Passage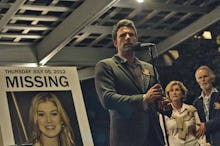 When the David Fincher-directed Gone Girl hits theaters Friday, moviegoers will be staunchly divided between the reads and the read-nots. The know-it-alls versus the uninitiated. From the trailer, everyone (nonreaders included) can get a relatively good sense of the premise: A woman goes missing and is feared murdered, her husband is implicated in the crime. From the trailers, it's also possible to get at least a loose handle on Ben Affleck's character, Nick: his belief in himself as a good guy, regardless of what he may have done; his cringe-worthy grin; his plausible deniability; his nice-guy shtick.
But who is Nick's wife, Amy (played by Rosamund Pike)? Who is the "gone girl"? 
For the read-nots who would rather experience the cerebral thriller in theaters first, or who simply ran out of time before Friday to read the book, there is at least one passage you should read from Gillian Flynn's novel before seeing the movie to get a sense of who Amy is. That passage is the "Cool Girl" passage. Not only is it a section that has sparked its fair share of self-reflection, discomfort and controversy, it also is one that reveals Gone Girl to be a sharp critique of this very age and Amy to be the mad genius character at the center of it all.
As narrated by Amy in the novel, the passage reads:
Men always say that as the defining compliment, don't they? She's a cool girl. Being the Cool Girl means I am a hot, brilliant, funny woman who adores football, poker, dirty jokes, and burping, who plays video games, drinks cheap beer, loves threesomes and anal sex, and jams hot dogs and hamburgers into her mouth like she's hosting the world's biggest culinary gang bang while somehow maintaining a size 2, because Cool Girls are above all hot. Hot and understanding. Cool Girls never get angry; they only smile in a chagrined, loving manner and let their men do whatever they want. Go ahead, shit on me, I don't mind, I'm the Cool Girl.Men actually think this girl exists. Maybe they're fooled because so many women are willing to pretend to be this girl. For a long time Cool Girl offended me. I used to see men — friends, co-workers, strangers — giddy over these awful pretender women, and I'd want to sit these men down and calmly say: You are not dating a woman, you are dating a woman who has watched too many movies written by socially awkward men who'd like to believe that this kind of woman exists and might kiss them.
The passage that has launched 1,000 blog posts is a sharp critique of both men and women, and is perhaps the emotional heart of the character of Amy Dunne. It is the passage to read before settling into the movie theater seats and even more than that, Vulture called it "a deeply important piece of woman-related writing."
As a character, Amy acknowledges that this Cool Girl is a part she plays, a part that many women play. A non-threatening idea of femininity that she ultimately resents. Her critique is of the women, but it is also of the men. Men who are so drunk on their own image and idea of what women should be that they've made a trope: the Cool Girl. The spoiler is that the Cool Girl is not actually real. The Cool Girl is playing a game. Just like Amy.
But is the Cool Girl actually in control? This text is crucially important to understanding, or perhaps exposing, Amy's character. Amy's story — her game, who she is and what she desires — is central to her disappearance. Her character plays an elusive role in the trailer, just as the Cool Girl does in life: Never the aggressor, always the facilitator. But Amy never acknowledges the role women themselves play in perpetuating this broken idea of femininity. And this is where the plot thickens.
The movie won't be entirely predictable for readers of the novel (Flynn admitted to deviating from her novel while writing the screenplay). But the Cool Girl passage is the section of the book that ruffled the most feathers and turned the novel from page-turner to pointed, concise, cultural criticism.
The Cool Girl is fleeting — here today, gone tomorrow. The criticism of the Cool Girl is poignant and true. Here's hoping the movie will feel the same.