Stephon Marbury Is Starring in a Musical About Himself in Beijing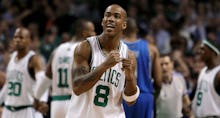 Earlier this year, Rocky the Musical ran for 188 performances on Broadway. On Wednesday, in China, comes the musical with the tale of another underdog: Stephon Marbury.
That's right: The two-time NBA All-Star is Starburying in his own musical about his life. Well, that's not exactly right: The New Republic's Christopher Beam saw an early rehearsal of I Was Marbury and said it actually didn't contain all that much Stephon Marbury: "The audience gets brief glimpses of him, or a gray hooded figure that is supposed to be him, throughout the play, but the man himself only appears onstage at the end." The musical makes Marbury the über-underdog, a stand-in for everyone who wants to triumph over adversity.
If you're not up on Marbury's story since leaving the NBA after rejecting an offer for the veteran minimum from the Celtics for the 2009-10 season, here's a quick summary: In January 2010, the mercurial point guard signed with the Shanxi Zhongyu Brave Dragons of the Chinese Basketball Association. He eventually landed with the Beijing Ducks, leading them to CBA championships in both 2012 and 2014. Not bad for a guy best known in the U.S. for threatening to release dirt on Isiah Thomas if he wasn't in the starting lineup, licensing his name to a $14.99 basketball sneaker at now-defunct Steve & Barry's and a memorable 24-hour live stream where he ate Vaseline.
But after leading the Ducks to their first two titles in franchise history, he's now an honest-to-goodness celebrity in China. "In this country, especially with foreigners, if you show a desire and you show a real want to try to get to know this culture and interact with its people and just try to immerse yourself a little bit, people really like that," Chinese basketball insider Jon Pastuszek told Sports Illustrated in 2012. "He came here and he needed a second chance, but China's showed him some love back and he really appreciates that."
The musical is just the latest accolade for Marbury, per TNR's Beam, who writes that Marbury also has a statue of himself outside the MasterCard Arena, has received the key to Beijing (Beijing!) and is rumored to be a candidate to coach the Chinese national basketball team. He didn't have much involvement in the musical, which tells the story of two buskers competing in a singing competition. Their stories trace the career arc of Marbury — at one point, there's a courtroom scene that's supposed to be like Marbury testifying he slept with a Knicks intern — who comes to one in a dream and inspires him to win the contest.
"I'm excited about the whole process of it basically being played out in a drama," Marbury told a TV news program. "I think that the idea of it being a spirit throughout my time in China, live, I think they'll be able to feel it a little bit more."