American TV Is Getting A Whole Lot Gayer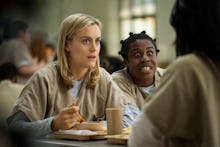 The news: It's been a good year for gay, lesbian and bisexual people on TV.
GLAAD's latest survey of TV programming is out, and while LGBT characters are still only receiving modest representation on major TV networks, they're happy to report that the number of LGBT characters on America's flatscreens is steadily increasing.
"Television networks are playing a key role in promoting cultural understanding of LGBT lives around the world, and are now producing some of the best LGBT-inclusive programming we've yet seen," GLAAD president and CEO Sarah Kate Ellis said in a statement. 
The numbers: According to the report, 3.9% of series regulars on the 2014-2015 scripted primetime television schedule will be lesbian, gay or bisexual characters, which is up from 3.3% in last year, but still down from 4.4% in 2012. There were 33 last year recurring LGBT characters on primetime broadcast series, plus another 22 LGBT recurring characters on primetime cable series, translating to 65 series regulars for the 2014-2015 season. Add in another 41 LGBT characters appearing on scripted cable series, and that's a huge increase from years past. 
Compare that to just nine years ago during the 2005-2006 season, when fewer than 2% of all characters in broadcast networks were gay, lesbian, bisexual or transgender. GLAAD compiled a five-year trend to demonstrate that overall, both cable and broadcast TV networks are doing a good job trying to be less heteronormative.
Network breakdown: Over the course of the 2013-2014 season, ABC Family, HBO and MTV all earned the top grade of "excellent" for their representation of LGBT characters, while ABC, the CW, Fox, NBC and Showtime fell into the "good" category. CBS, TLC and USA were merely adequate. In dead last came History, A&E and TNT, all of which were rated as failing to be inclusive.
The number of lesbian, gay and bisexual characters still remains quite modest: With 781 straight characters and just 32 LGBT ones, there's still quite a lot of work to do.
Some networks are doing much worse than others. The CW, for example, plans on including no LGBT characters in the upcoming TV season, down from 3% last season, a move GLAAD called a "tremendous step backwards." Fortunately, the other major networks are making significant efforts to increase the number of LGBT characters relative to previous years. And in case you ever mix up Fox the network with Fox News, Fox is actually the industry leader representing non-heterosexual people on TV, with an "impressive" 6.5% of characters.
To put these numbers in context, GLAAD also released a survey called the Network Responsibility Index that measures the amount of LGBT-inclusive television programming on select networks. Any program that contained LGBT "representations or content," such as LGBT characters, discussion of issues pertaining to LGBT people or inclusion in news coverage would qualify that show as LGBT-inclusive. On the broadcast network front, every single network but Fox recorded increases, and nearly 40% of NBC's programming had some qualifying content.
Cable woes: However, when you get to cable content, some of the networks are clearly not trying to include anything related to LGBT issues whatsoever. TNT and A&E clocked in at 9% and 6% respectively, while History gets a big fat zero. This is despite the fact that, as the report notes, "History produces more hours of original programming than nearly any other cable network tracked by GLAAD in the NRI." 
Just one show, Bible Secrets Revealed, mentioned LGBT issues, and only to specify that the Bible does not have any passages expressly condemning same-sex relationships. GLAAD says that the complete exclusivity of LGBT characters from A&E probably has to do with its recent array of content focusing on Southern settings and blue-collar jobs that appeal to a more conservative American audience, which tend to ignore narratives revolving around LGBT people.
Over the entire 2013-2014 season, only that one hour of History's content (0.3%) qualified for the ranking. Not great.
Steps in the right direction: Overall, GLAAD thinks that TV is moving forward with positive representations of queer people, and hopes that the trend towards diversity will continue as attitudes towards America's LGBT community become warmer and more welcoming. 
But there was one massive hole: There were no transgender people whatsoever on scripted primetime broadcast shows. Just one transgender man will be appearing on cable in the upcoming 2014-2015 season, Cole on ABC Family's The Fosters. An additional two transgender characters will appear on streaming TV (Netflix's Orange Is the New Black and Amazon's Transparent), but trans characters otherwise remain invisible on America's TV screens. On that front, networks have an obligation to do better.