Facebook's Debate Over Real Names Is About Way More Than Just Drag Queens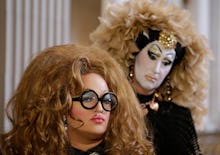 On Wednesday, Facebook officially apologized for restricting drag queens and other members of the LGBT community under the auspices of its "real name" policy, which requires users to list their actual names on their profiles. 
"I want to apologize to the affected community of drag queens, drag kings, transgender, and extensive community of our friends, neighbors, and members of the LGBT community for the hardship that we've put you through in dealing with your Facebook accounts over the past few weeks," wrote Chris Cox, Facebook's chief product officer. "We owe you a better service and a better experience using Facebook, and we're going to fix the way this policy gets handled so everyone affected here can go back to using Facebook as you were."
The crux of the issue was the stage names of drag queens, which are often used in place of legal names where social life is concerned. Facebook recently began deleting hundreds of these accounts, along with those of other LGBT community members, because a user reported them as fake. The social media giant didn't notice the connection between drag queens and "fake names," so it went along with the complaints. 
The drag and LGBT communities responded strongly. They criticized Facebook for ignoring the delicacy of the situation and its possible ramifications. "Facebook's requirement that users provide a form of identification to prove their 'real name' is unfair and disproportionately impacts our already vulnerable communities," read a letter written by members of the community. "This policy lends itself to abuse; some people are using this tool to target and harass our communities with the intent of erasing our identities."
Now, finally, it seems like the situation is close to a resolution. Although it's still unclear how exactly the policy will change, Cox's language all but stated the "real name" policy would no longer be enforced in the same way. 
"The spirit of our policy is that everyone on Facebook uses the authentic name they use in real life," wrote Cox. "For Sister Roma, that's Sister Roma. For Lil Miss Hot Mess, that's Lil Miss Hot Mess."
Here's why this matters: Although the drag and LGBT communities led the charge against Facebook, there are other potential victims of the "real name" policy. 
Women and men who have been subject to domestic violence, for instance, may not want their real names displayed for fear of retaliation by a current or former partner. Gay, lesbian, bisexual or transgender individuals who are still not "out" to friends or family may choose to use different names, as well as residents in places where such an admission can have serious consequences. (A spokesman confirmed to BuzzFeed that the policy was in place even in countries that have anti-gay laws.) 
Given that they recently added a plethora of gender identities, the "real name" policy was even more questionable.  
Facebook is supposed to be about community. That's the entire premise behind the social networking site — and, it could be argued, any and every social networking site. The names, "real" or not, of drag queens and kings are an inherent part of building such a community, and without them, a key part of that togetherness ceases to exist. 
Engadget's John Colucci explains:
With its "real names" requirement, Facebook is in effect telling drag queens that they can't be their authentic selves on the service. Why, for the limited group of people Facebook serves up your content to, should it be in the business of censoring your identity and way of being? Social media is supposed to be about being yourself and saying what's on your mind, in the manner in which you choose to do so.
By requiring this community to stop identifying a key part of its very nature, Facebook effectively whitewashed an entire group. It was absolutely appropriate for the drag and LGBT communities to respond the way they did. Facebook was essentially going against its founding premise, and an already-marginalized group was seeing the consequences. 
But this apology is a good sign. It's not an end-all, be-all response: It's still up in the air as to what changes Facebook will actually implement. But the company stepped up in a big way on Wednesday. It's not perfect, but it's a start.