An Illinois Cop Was Fired After This Facebook Post About Ferguson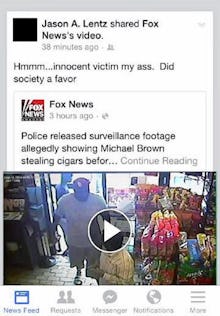 Facebook
The news: Given how much scrutiny there has been on police misconduct and brutality since the shooting of Michael Brown in Ferguson, Mo., you would expect cops to hold themselves to a higher standard and perhaps not pull stunts like wearing "I Am Darren Wilson" bracelets.
Now another cop has landed in hot water after making a regrettable remark about Ferguson: Jason Lentz, a 17-year veteran officer in Elgin, Ill., was fired this week for a Facebook post he made in August, in which he posted a Fox News video of Michael Brown allegedly stealing cigars. In his caption, Lentz wrote, "Hmmm ... Innocent victim my ass. Did society a favor."
Lentz has made troubling posts about Ferguson before: He posted a photo calling Missouri State Highway Patrol Capt. Ron Johnson an "enemy within" for throwing up the hand sign of his fraternity:
Lentz has also posted in protest of Martin Luther King Jr. Day, saying he would be keeping his child home on Veterans Day as long as children have the day off for King's holiday:
After a supervisor instructed him to take down the post and he refused, the Elgin Police Department found that Lentz's "conduct that would undermine the credibility of the city or employees." This marks the fourth time that Lentz has been officially reprimanded; he was previously suspended for making disparaging remarks about other officers and sending inappropriate emails.
But there is a silver lining to this story. Lentz was held accountable by his colleagues and department. Lentz's original post was first discovered by a police sergeant, who notified the higher-ups. The police command staff then combed through Lentz's profile and found a slew of other offensive posts, prompting them to take action.
"Our relationship with the community is based upon trust. When an officer violates this trust, action must be taken," Elgin Police Chief Jeffrey Swoboda said in an official statement.
Chief Swoboda gets to the heart of the problem facing police forces around the country: trust. A recent Atlantic Media/Siemens State of the City poll, conducted before the death of Michael Brown, revealed that just 35% of urban minorities said they had "a lot" of confidence in local law enforcement in their city, while 25% reported "not much" or "no confidence." Compare this with the 48% of urban whites who have "a lot" of confidence in the cops and the 13% who don't. Another poll by USA Today and Pew Research Associates found that 9 in 10 blacks think the police do an "only fair" or poor job when it comes to "equal treatment or appropriate force." Posts like Lentz's only reinforce the trust gap between citizens and law enforcement,
While it can be distressing to see police officers make cavalier remarks about such controversial situations, it's at least heartening to see that events in Ferguson have put police misconduct in the national spotlight — and that responsible officers are willing to hold themselves and others to a higher standard.