This One Disturbing Trend in Sports Television Needs to Stop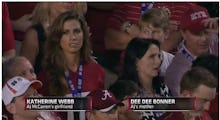 During Tuesday night's American League wild-card playoff game between the Oakland A's and the Kansas City Royals, there was a pause in play at Kauffman Stadium in Kansas City — and a cameraman felt the impulse to go to work scouting the talent.
Not on the field, but in the stands.
What is known as the "honey shot" is a practice so common that we viewers have become desensitized. It reminds me of my time as a pro indoor lacrosse statistician in Colorado, where during TV breaks the nearby stationary camera crew would try to outdo each other combing through the crowd to find hotties, sometimes returning from commercial to the shot. The broadcasters, as they are often forced to do (some better than others) would awkwardly sidestep or tiptoe around the image before refocusing viewers' attention back to the action on the field. Similar visuals are shown on a consistent basis no matter the sport.
Now, we get it: Attractive girls are, well, attractive. But when is enough enough? When do we finally take a stand and make real efforts toward creating a more comfortable environment for the women we love, our sisters, mothers, daughters, girlfriends and wives, to kick back on the couch and watch a game, or join us at the stadium without having to worry about them being objectified for nationally televised consumption?
We as a society make light of comments about women by broadcasters. In 2005, commentator Brent Musburger helped discover future Brett Favre sexting target Jenn Sterger, and in 2013 Musburger made then-girlfriend (now wife) of former Alabama quarterback A.J. McCarron, Katherine Webb, a household name. There's also former baseball player Keith Hernandez ogling a fan at a Mets game.
Enough. It's time to step up and make our voices heard about this misogynistic, voyeuristic, old boys' club — and usually just plain creepy — mentality that we still allow to pervade our lives. It's this same issue that has historically belittled women and naturally reduced their interest in the pursuit, or at least limited their roles, in the world of sports.
Slate's Josh Levin addressed the origins of this regrettable convention earlier this year in the middle of the World Cup, where you may have noticed the number of "honey shots" during a match far outnumbered the total goals scored on the field.
Levin points to one man, the late TV director Andy Sidaris, formerly of ABC's Wide World of Sports, as the self-proclaimed pioneer of the pronounced focus still seen much too often today. Sidaris eventually gave up his career in sports to concentrate fully on directing skin flicks passed off as '80s and '90s action films with former nude centerfolds in starring roles.
While we can declare our disappointment in the cameramen and commentators who take part, most of the blame falls squarely on the shoulders of the fellow television directors who have taken Sidaris' lead in maintaining the sad tradition. They are the ones orchestrating the broadcasts and telling their crew which shots to find and capture, and choosing which ones make it on air.
As intelligent, informed, sporting consumers, we need to go to bat for the women in our lives by pressuring networks to get back to what it is that make sports on TV great: the in-game drama and compelling human interest stories outside competition — not the brunette in the sixth row.
Let's push them to play by our rules, to help amend the meaning of the phrase "honey shot," redefined as an essential angle from on the field or court because on its own it's must-see and simply the sweetest. Honeys need not apply.