Now McDonald's Has a Black Hamburger, Too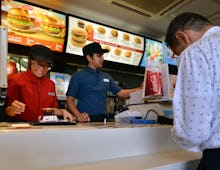 A fast food restaurant has returned fire in the Great Black Burger War of 2014.
Burger King received a lot of attention for its Kuro burgers, which feature black buns and some truly stomach-turning black cheese. Not to be outdone, McDonald's in Japan just announced its own black burger in time for Halloween.
Nothing says tasty food quite like all those howling ghosts. When your burger is fit for an angry dead person, you know it's good. 
That being said, it looks a hell of a lot more appetizing than Burger King's version. Compare this:
And this:
The cheese color makes all the difference. The McDonald's "normal" orange cheese is almost welcoming compared to the slab of black matter resting atop the Burger King patty. (It's also more festive, given the Halloween peg.)
The not-so-secret ingredient in both is squid ink, which gives the buns their distinct color. Squid ink is often used in dishes with a little more seafood — think clams casino, or even as sauce for risotto with calamari or prawns.
If you're spooked by the Halloween burger and live in the U.S., don't worry: It's only available at a few stores in Tokyo. You can rest easy and eat your delicious, not-at-all-gross-looking normal McDonald's burgers in peace.