Rand Paul's Outrageous Fear-Mongering Over Ebola Makes Absolutely No Sense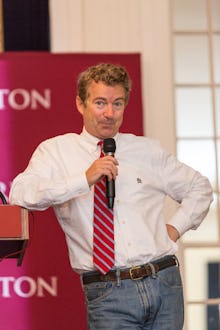 Sen. Rand Paul (R-Ky.) has gotten the Ebola fear-mongering ball rolling, warning of a "whole ship full of soldiers" returning from West Africa with the disease.
Paul, appearing on Laura Ingraham's radio show Wednesday, questioned the wisdom of President Obama's plan to send 3,000 U.S. troops to Liberia to build 17 field hospitals and prop up the public health infrastructure. Despite the fact that their mission is mainly to provide logistical support, Paul is still worried:
"You also have to be concerned about 3,000 soldiers getting back on a ship. Where is disease most transmittable? When you're in a very close confines on a ship, we all know about cruises and how they get these diarrhea viruses that are transmitted very easily," he said. "Can you imagine if a whole ship full of our soldiers catch Ebola?" 
Imagine! An Ebola-ridden ship full of sick soldiers ready to unleash the deadly disease on the general public.
There is approximately zero chance of this scenario actually happening.
First of all, there is no single ship carrying all 3,000 soldiers to and from Liberia, because the United States military has these things called "airplanes." And the troops are being deployed in installments from different locations, not all at once.
Secondly, the Defense Department is taking great care to ensure minimal risk of transmission of Ebola to the soldiers on the ground. Soldiers have been trained to protect themselves from the disease, and will have no contact with infected populations. 
Because of these precautions, Ebola is not even the biggest health threat to the soldiers.
"If anything, there are other health risks we're more concerned about, and we'll mitigate those," a spokesman for the 101st Airborne Division told the Army Times, citing malaria as a more pressing concern.
Nonetheless, Paul is taking the opportunity of the arrival of Ebola in the United States to rail against "political correctness," which he sees as limiting an open debate over the extent of the threat. Unfortunately for Paul, but fortunately for the rest of us, "facts" instead seem to be the main driver of the U.S. response.
h/t Mediaite