If You're Trying to Find a Spouse, You Might Need to Move to One of These Cities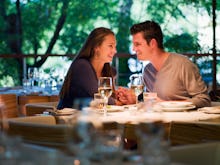 Looking to jump into the dating pool? Your luck could depend a lot on what city you live in.
A new Pew Research Center report looked at the ratio of single men and women in metro areas across the U.S. It added another factor, employment, to the mix in order to sort out some semblance of desirable matches. (Who doesn't want to date someone with a job?)
The results found that ladies might do best in the San Jose, California, area, where there are 114 employed men for every 100 women among unmarried adults, who comprise a full 57% of the population there. The East Coast really can't compare, with its highest-ranked representative, the D.C. area, coming in at seventh on the list.
Women's worst odds in large metros seem to be in the Memphis, Tennessee, area, where there are just 59 employed single guys for every 100 single ladies. Every other large metro area has at least 70 employed single men for every 100.
Flipping things around, single men don't have nearly the same ratio of employed women to try and pick from. The best part of the country on that front is the Lewiston-Auburn metropolitan area in Maine, where there are 99 young single women with a job for every 100 young single men.
Among larger areas, Raleigh, North Carolina, comes in at 81 employed women for every 100 men, with Washington, D.C., below that at 78 for every 100. You can see the whole interactive map below:
Source: Pew Research Center
What's interesting is that adding in employment can drastically change the ratio. The Orlando, Florida, area, as Pew points out, has 128 single young men for every 100 single young women. Thirty-eight of them, though, are unemployed, leaving 90 young men with jobs for every 100 young women. Los Angeles and Pittsburgh have similar drops.
The location data comes with a new Pew survey on what young Americans are looking for in their love lives. Just 53% of unmarried adults said they wanted to get married one day, and Pew estimates one-quarter of millennials never will.
For those who do want to tie the knot, men and women tend to have differing expectations. Seventy-eight percent of women want their spouse to have a steady job, for instance, compared to 46% of men. Other topics, like religion, child-raising and educational background, had nowhere near that large a gap.
So if marriage isn't in your plans, don't worry. You're not alone. And if it is? The weather in San Jose is pretty nice this time of year.