10 Acts That Prove Korean Music Is So Much More Than K-Pop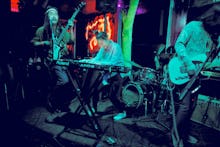 When South Korean singer Psy brought K-pop into the American consciousness in 2012 with the polarizing and infinitely viewable "Gangnam Style," he also paved the way for other Korean acts to be heard on an international level. Over the two years since his debut, K-pop has exploded in America. Just last month, KCON, a K-pop festival in Los Angeles that began in 2012, was attended by over 40,000, a testament to the growth and staying power of a genre relatively new to American ears.
While Psy's reign of delight or terror (depending on who you talk to) has come to an end, songs like BIGBANG's "Fantastic Baby," the video for which has over 100 million YouTube views, prove that K-pop is more than a passing fad. 
But there's an unfortunate side effect to the genre's popularity: America is only acknowledging the poppiest, most corporate side of Korea's musical output when, in reality, the country has so much more to offer. 
Here are 10 indie and rock bands from Korea who show the wide range of offerings available in the country's musical landscape:
1. Goonam
This four-piece indie rock group is as eccentric as their (full) title would suggest: Goonamguayeoridingstella, the long version of their mercifully shortened name, supposedly is an abbreviated version of "geriatric Korean swingers scandalously joyriding in an old-school Hyundai sedan," according to South By Southwest's website. They played the festival in 2013 and gave Texas a taste of songs like "Blood," a psychedelic number that's similar to "Gangnam Style" only in its surreality.
2. Jeong Cha Sik
After fronting the band Rainy Sun in the '90s, Jeong, who also played SXSW in 2013, has parlayed that gig into a fruitful solo career in which he is essentially a Korean Tom Waits. He incorporates an array of disparate influences into an initially tough-to-stomach package that rewards patient and open-minded listening.
3. Eloise
Eloise singer Sun Jun Pyo is without a doubt the Korean doppelgänger for Strokes frontman Julian Casablancas. The band isn't that far off from The Strokes instrumentally, either, and would probably thrive like their American counterparts if speaking English weren't such a necessary part of singing disaffectedly about matters of class and love in New York.
4. Yozoh
This multi-talented pop-folk singer is a triple threat: She's a folk singer, a pop singer and a killer actress. She manages a captivating minimalism — her song, whose title translates to "Miss the old days," features only Yozoh's gentle vocals for nearly a minute before a light acoustic guitar backing comes in. Just these two factors convey a sense of loss or yearning that even an audience that can't speak Korean would understand.
5. Electricity Flowing
Falling somewhere between house music, The Postal Service and a more excited Royksopp, Electricity Flowing is an exceptional indie-electro act that utilizes K-pop sensibilities without sounding unabashedly mainstream. Their midtempo compositions have both the excitement of a club banger and the ambient sonic intricacy that rewards headphone listeners.
6. Rainbow99
Speaking of ambient, Rainbow99's chilled out instrumental trip-hop comes off as a just-uncovered collaboration between Brian Eno and Sound Tribe Sector 9. This is comfortingly hypnotic music.
7. Purple Haze
Purple Haze's sound employs a fusion of many American styles, like jazz, R&B and psychedelic rock. Their song "No Abuse," for example, is a cornucopia of different ideas and motives, but the group manages to keep the track clutter-free and moving in a singular awesome direction.
8. ookoorookoo
This fun-to-say outfit brings to airy electronica to a light post-rock sound (think Explosions in the Sky). They manage an inspiring and huge sound with playful '80s elements.
9. Coffee Boy
This singer-songwriter's wispy, comforting voice sits nicely atop a primarily acoustic, bossa nova-influenced backdrop. It's easy to listen to, but it's certainly not easy listening. This is perfect atmospheric music for an ideal, tranquil moment.
10. Zzyzx Project
Zzyzx Project, pronounced "ji-jiks project," can get a ridiculous amount done with just vocals and an acoustic guitar. The dexterity of the lead singer's voice is one of the pair's strongest attributes — with small fluctuations, he shifts from emotional folk-style singing to an almost Middle Eastern warbling vibrato, all with a pressing authenticity.