If All Male Singers Were Feminists, This Is How Awesome It Would Sound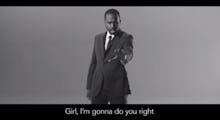 When men sing, rap or rock out about sex, it comes off as just another straight dude going on about how women exist solely to sexually please him. Remember the Nelly classic, "Tip Drill"? "Now baby girl bring it over let me spit my pimp juice." There's no reciprocity here at all.
But there's a new R&B song that shows men everywhere just how awesome sex can be — especially when it's of the feminist variety.
With a male crooner soulfully singing about his praise, admiration and attraction toward a woman — without the male chauvinism and oppressive gender stereotypes so often present in pop music — a new video from College Humor literally changes the tune. Call it a more sexually enlightened crooning. 
Oozing with sensuality and feminist sensibility, the singer extols the virtues of mutual sexual satisfaction, body positivity, reproductive health and even consent.
"I'ma push you up against the wall and take you. Or you can take me, whichever you prefer," he sings. "Sex is a conversation, not a lecture. And I wanna get freaky, but on your terms."
To be fair, there's plenty of men on the music scene who do croon about sex, romance and sensuality without privileging men too much in the process. R&B singers like John Legend, Stevie Wonder, Musiq Soulchild and Brian McKnight come to mind. 
These men may not be leading the march for reproductive rights, but they're solid examples of how men can show appreciation and desire for women while not also disrespectfully turning them into objects or perpetuating purity myths.
That's what makes this humorous twist on a male-driven love song so refreshing. 
"Girl, you really do it like a pro. But your experience don't make you a ho," the College Humor singer belts. "In my opinion, your sexual liberation is healthy and normal and makes you human."
It's a different kind of love song, and would probably never play on the radio, but imagine what it would be like if these messages were heard in male musicians' songs about the women they admire? Maybe then more young, straight men will grow up learning how to properly treat ladies they have feelings for — making them true allies in the fight to end patriarchy.