Lawsuit Alleges Nicholas Sparks Is a Racist, Anti-Semitic Homophobe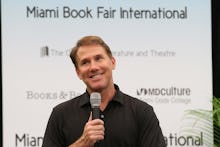 The news: A new lawsuit filed by the former head of a private school funded by Nicholas Sparks alleges that the Notebook author isn't the golden-hued, saccharine hero he appears to be — he's actually a racist, anti-Semitic homophobe.
Saul Hillel Benjamin is suing Sparks for lost income and punitive damages. He alleged that Sparks and other school leaders got rid of him for attempting to bring in black students and faculty, as well as for supporting a group of students bullied for being gay. 
"Apparently, despite the efforts our society has made, Mr. Sparks wants to travel back in time and vilify those who promote diversity and tolerance of all people regardless of their sexual orientation and race," Douglas H. Wigdor, a New York attorney representing Benjamin, told the Associated Press.
In the suit, Benjamin noted that Sparks told him "diversity should not be measured by percentages of minority students enrolled or minority faculty employed" when he tried to recruit black students and faculty. He also allegedly engaged in some good old-fashioned religion-bashing. During school events, "Sparks insisted that Mr. Benjamin stop talking about Islam, Judaism or any other non-Christian religion," according to the lawsuit. "That's not what our parents like to hear," he apparently said.
But wait, there's more! The suit also claims that Sparks criticized Benjamin because he went to an NAACP event. TMZ reports that after Benjamin voiced opposition to the fact that the school only had two black students out of 514, Sparks responded, "Black students are too poor and can't do the academic work." 
The kicker? Despite the fact that Sparks wrote what is arguably his most famous novel, The Notebook, about a couple persevering in the face of Alzheimer's, Benjamin alleges that after he was fired, Sparks told people at the school to ignore Benjamin's allegations because he was suffering from Alzheimer's. 
As Gawker points out, these things throw a tiny little wrench in the school's mission statement. It reads: 
"Our Christian Traditions, ethical commitments toward others, open-hearted faith, and appreciation for diversity, are integral to the honorable values and kindness manifested in the daily life of the school.
Whoops. 
Sorry, Sparks fans — it appears as though your cloyingly sentimental hero might not be who you thought he was. But then again, given that literally all of his stories focus on white, heterosexual romances, perhaps we should have seen this coming.