This Adorable Girl's Amazing Story Shows the Real Promise of 3-D Printing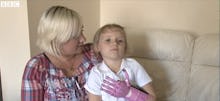 The applications of 3-D printing technology, so far mostly used to make small plastic trinkets, are limitless. For proof, meet 5-year-old Hayley Fraser, who was born with a congenital deformity leaving her without fully-formed fingers. Thanks to nonprofit E-Nable and University of Wisconsin engineer Frankie Flood, she now has a fully flexible hand that allows her to perform many complex tasks unimpeded.
According to the BBC, Fraser is "thought to be the first child in the U.K. to have a prosthetic hand made with 3-D printing technology." What's more, it cost just £50 (about $80).
Her family told the Daily Mail that the prosthetic came about after E-Nable connected them with Flood, who took a plaster cast of Hayley's arm and scaled the low-cost, all-mechanical design to fit with her tiny body. He then 3-D-printed the device and sent it to her in the mail. Her father David claims the new hand has both dramatically improved her dexterity and helped give her self-confidence with other students:
"It was all her dreams come true," said Mr Fraser, 36. "It's the little things – she can hold her teddy, peel a banana and even paint her nails now. It has made a real difference to her – the philosophy behind the charity is amazing."
Why it matters: 3-D printing may hold the key to cheaply providing affordable prosthetics and other medical devices that require extensive customization. Earlier this year, surgeons at Children's Hospital in Louisville, Kentucky, collaborated with the University of Louisville engineering school to use a Makerbot 3-D printer to create a scale 3-D model of a young boy's heart based on traditional two-dimensional CT scans. The printer allowed surgeon Erle Austin to learn more about the boy's various heart defects, allowing medical staff to perform a complicated corrective procedure flawlessly.
As Forbes' TJ McCue notes, there are between 10 and 15 million amputees in the world. Cheap 3-D printing technology could enable access affordable prosthetics, improving their quality of life. Since the necessary parts can be easily replaced, they offer great cost advantages. 3DUniverse found that 53-year-old Jose Delgado, Jr., who was born without most of his left hand, actually preferred his $50 mechanical E-Nable hand (the "Cyborg Beast") to a $42,000 myoelectric version that sensed nerve signals to operate the fingers.
Future applications of the technology may even include 3-D-printed organs. Instead of using plastic, the printers could use live human cells to print out entire organs. Computer World's Lucas Mearian, profiling the emerging technology, wrote last year that the primary technical challenge to the first project, a liver, would be devising ways to keep the cells from dying without a nutrient and oxygen-providing vascular system. In July, the Guardian reported that researchers from Sydney and Harvard universities had solved that puzzle by printing "tiny, interconnected fibers to serve as the mould for the artificial blood vessels," which were then covered with a "cell-rich protein-based material" that solidified around it. After the fibers were removed, the cells in the protein-based material formed tiny blood vessels within a week.
"We have shown that we can print these capillaries, we have shown they are functional, that they mature to form capillaries and that we can tailor-make them to the sizes and structures we need," head researcher Luiz Bertassoni told the paper.
"Tissue engineering to make simpler tissues has been a reality for a number of years and through what we have been able to achieve, we can start talking about larger, more complex tissues that are able to survive longer."
While bioprinters churning out organs may still be decades away, in the meantime, 3-D printing is already proving itself to be a valuable medical tool. Just ask Hayley, who can now do this: