Hackers Probably Have Your Home Address and Phone Number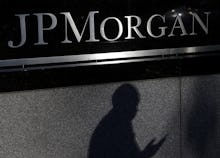 Have a Chase account? Change your passwords right now.
JPMorgan Chase, the biggest bank in the U.S., told regulators on Thursday that a previously disclosed data breach affected 76 million households and 7 million small businesses, Bloomberg News reports.
Customer names, addresses, phone numbers and e-mail addresses were taken by unidentified hackers, the company said in a security filing. 
"There is no evidence that account information for such affected customers — account numbers, passwords, user IDs, dates of birth or Social Security numbers — was compromised during this attack," the company told Bloomberg News.
The data breach affects a huge number of Americans: According to the U.S. Census Bureau, there are around 117 million households in the country, meaning 64% of households were affected by the breach. The breach hit "anyone who visited the company's websites, including Chase.com, or used its mobile app," according to a Bloomberg News source.
Concerned yet? Good. Stop what you're doing, call your bank, and change all your information right now.