The September Jobs Report Is the Best in Months — But There's a Catch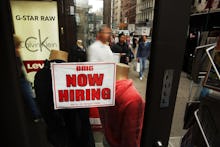 For the first time in more than six years, the unemployment rate has fallen below 6% to 5.9%, with the economy adding 248,000 jobs in September, the Labor Department reported Friday. The rate and the number of jobs added surpassed economists' expectations, with the unemployment rate coming in 0.2% lower than predicted, and job gains exceeding experts' best hopes by 33,000.
But there's more to the story.
So, while the percentage of working-age Americans pursuing work unsuccessfully hasn't been this low since summer 2008, the rate of individuals who have given up or chosen to stop looking for jobs is still high, bringing "labor force participation" to its lowest levels since 1978.
MSNBC points to another figure that complicates today's news:
"Wages, however, haven't seen a significant boost, even as the labor market has tightened: Average hourly earnings fell by one cent to $24.53 last month, when analysts had expected them increase by 0.2%."
President Barack Obama knows this. In a speech Thursday at Northwestern University's Kellogg School of Management, he spelled out the underlying conflict.
"It is indisputable that our economy is stronger today than it was when I took office. At the same time, it is also indisputable that millions of Americans don't yet feel enough of the benefits of a growing economy where it matters most – in their own lives," he said. "These truths aren't incompatible. Our broader economy has come a long way, but the gains of recovery aren't yet broadly shared."
Whether that's a winning political message — and whether "yet" is the right word there — is another question. But the September jobs report shows that, while the overall economy is growing stronger every month, regular Americans — even those with steady employment — aren't reaping the benefits.