Meet the Single Worst Person in Chicago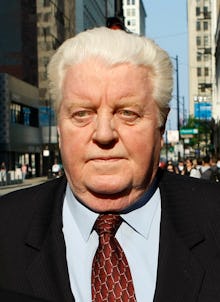 Charles Rex Arbogast/AP
The news: This is Jon Burge, and he is terrible.
On Thursday morning, the 66-year-old former Chicago police commander was released from federal prison in North Carolina. He'd served 3 1/2 years for perjury, but escaped punishment for a greater crime: The torture of over 100 people between 1972 and 1991.
The background: Burge was living in Florida when he was arrested in 2008. But his name will forever be synonymous with police brutality in the Windy City, where he served the department for 23 years.
Since 1983, allegations of abuse committed by him and the officers under his command have poured in. The details are shocking. One victim, Anthony Holmes, was arrested in 1973 and taken to a South Side police station, where he was hooked up to an electrical box with a bag placed over his head. The Chicago Tribune reports that detectives repeatedly "shocked [Holmes] until he confessed to a murder he says he did not commit." 
Holmes spent 30 years in prison. He still remembers Burge calling him a "nigger" in his ear and warning him, "Don't you bite through that bag," according to the Tribune.
And that's just one incident: Human rights attorney Flint Taylor writes at In These Times that Burge's other tactics ranged from "suffocation with plastic bags and typewriter covers" to "mock executions and brutal attacks on the genitals." NBC Chicago reports that his victims were "virtually all African-American." 
By the time Burge was fired by the department in 1993, 118 such allegations had been leveled against him.
But wait: It gets worse. The Abu Ghraib-level horror of the commander's alleged tactics also came with a hefty price tag.
According to the Tribune, the city of Chicago and Cook County were so invested in protecting Burge and his cronies over the past 30 years that it spent upward of $96 million in settlements and legal fees related to his misdeeds. And that number may grow even larger. Protesters, lawyers and politicians alike are calling for another $20 million to be set aside as compensation for the commander's victims.
"Justice:" Only in 2006 did county prosecutors find sufficient evidence to charge Burge, but by then it was too late. The statute of limitations had long expired, and so in 2010 a separate federal prosecution team was able to charge him only with lying under oath. (Burge told prosecutors he knew nothing about any incidents of misconduct under his command; in fact, he certainly did.)
Burge was eventually sentenced to 4 1/2 years in prison. Released a year early, he will spend the final part of his sentence at a halfway house near Tampa, Fla., located a convenient 27-minute drive from a home he owns in nearby Apollo Beach. 
And in spite of it all, he still gets to collect a generous pension of $4,000 a month.
So, to recap: Chicago and Cook County spends nearly $100 million defending a cop who allegedly committed what could easily be considered 118 hate crimes. That cop then lies about his misconduct under oath and walks out of prison after less than four years. To top it off, he moves to a halfway house in sunny Florida and collects more in pension money than the median Chicago household makes in a year.
And they wonder why 70% of black Americans don't trust the police. What a mess.
h/t Colorlines