'The Knick' Is The Best Show on TV That You're Not Watching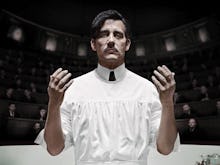 Unless you're one of The Knick's 600,000 viewers, you're missing out on the best show on TV. Directed by acclaimed filmmaker Steven Soderbergh and bolstered by exceptional writing and acting, The Knick stars Clive Owen as the tortured but brilliant Dr. John Thackery, who heads an ensemble of characters that make up the staff of New York's Knickerbocker hospital during the turn of the 20th century. The show is critically acclaimed, has already been picked up for a second season and is one of the most nuanced shows on television. It is gory and gross, and breathtakingly beautiful, sometimes in the same moment. 
Every episode pulses with a fierce energy, yet for some reason the audience buzz is fairly quiet. In fact, it seems to have been written off by many as either a snobby critical darling or a boring costume drama. But it's different from anything on television before it. If you give it one episode, just one episode, you're sure to get pulled in.
Some of the audience resistance to The Knick likely stems from the idea that it's another stodgy period drama; the kind of costume piece that's adored by critics, while eliciting yawns from everyone else. But while historical context is an important part of The Knick, the period doesn't bore. On the contrary, it breathes unexpected life into the show. "Like True Detective, The Knick benefits from a consistent vision and stellar cinematography," writes Sara Smith at the Kansas City Star. "Its turn-of-the-century sets and costuming will transport viewers into the past more vividly than any stuffy sitting room in Downton Abbey."
True Detective is an apt comparison, in that it was also the work of a select few. Creator Nic Pizzolatto wrote the entire first season of True Detective, all of which was directed by the Emmy-winning Cary Fukunaga. Similarly, only one episode of The Knick so far wasn't written by creators Jack Amiel and Michael Begler, and all have been directed by Soderbergh, making it an exciting entry in the growing trend of cinematic television.
Melissa Maerz of Entertainment Weekly credits Soderbergh's skilled touch as a storyteller for this cinematic quality, and her assertions are hard to argue against. She sees Soderbergh's expert touch in "the brilliant but unusual score (minimalist electronic music) to the wry camera angles (the series opens on Owen's shoes as he lounges in a brothel). For a period piece, it's strikingly contemporary." 
Which brings us to gore, another crucial component to The Knick. Obviously, violence isn't anything new for premium cable. But it is the kind of procedural, matter-of-fact bloodiness in The Knick that makes it unlike anything else on television. This isn't your dad's medical drama, where you get a few spurts of blood before the camera pans away. This is buckets and buckets of blood. But don't get it twisted: This isn't shown out of sadism, but out of accuracy for the times. 
Take, for instance, the show's first episode, which opens on a scene of a delivery gone wrong — a medical moment shot almost like a horror movie. The whole thing is thrilling, terrifying and tragic all at once. Unlike, say, Game of Thrones, which is known for shocking and grotesque violence in the heat of battle and conflict, The Knick explores violence as a way of preserving life.
The Knick also represents a major moment for Cinemax, one in which they hope to cross over from mere add-on to legitimate prestige channel in their own right. As David Hinckley at the New York Daily News rightfully notes, "Cinemax originals have mostly been built on testosterone and skin. The Knick gives us a fuller and richer body." 
Even with all of these tremendous things going for it, it still feels like The Knick is getting left in the dust. The ratings are fair, but not amazing. And there isn't the intense fandom around it that there is for Starz's Outlander (another show looking to legitimize the network that it's on). And even something as polarizing as HBO's The Leftovers managed to stir up quite a conversation, whether you liked it or not.
But give The Knick the chance it deserves. It's weird, demented, smart and never, ever boring. And if you've gotten any impression to the contrary, won't you be pleasantly surprised?